if (screen && screen.width < 767) {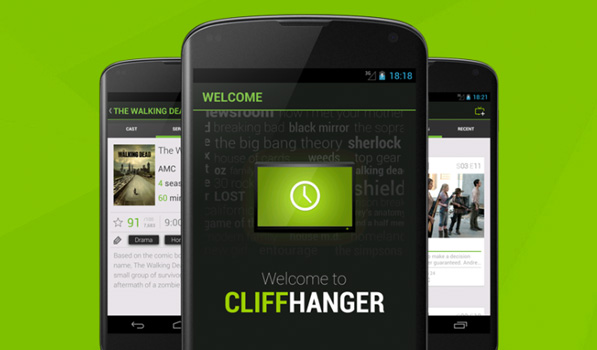 Cliffhanger — Another Beautiful TV Show Tracker for Android
---
Even though Android as a mobile operating system has improved considerably in the last year, the 3rd party app ecosystem is still severely lacking. Most apps haven't been updated to support the new high resolution phone screens let alone have tablet UIs. So it is always great to see developers going that extra mile for apps with a polished Holo UI. Cliffhanger is one such app and a great example of how you can work with the Holo design guidelines and create something beautiful.
The main screen of the app is presented in a beautiful, Holo style, with green highlights and a Google Now like cards interface. The use of typography and whitespace in here is fantastic, and really makes for an app that is a joy to use. The discovery screen is presented in a neat grid of the TV shows' cover images. I'm not entirely sure how the shows that have larger covers are selected, but you'll be sure to find a show or two that you'll like scrolling through. As with any app, the devil is in the details. When you're adding a new show to your list, you tap the "+" button to the top right of the show you want to add. The "+" changes to a clock that spins around and finally changes to a green tick. The animations look beautiful and are perfectly fluid on my Nexus 4. Even the settings screen of this app is stunningly well crafted. The developer uses custom checkboxes and toggle switches, and the result is an app that looks and feels like a first party app, and unfortunately there are all too few of those on Android today.
While there are a multitude of TV tracker apps on all platforms today, Cliffhanger is the definitely one of the best ones on Android, hands down. It's free on Google Play and you should definitely try it out.
This was a guest post by Ido Vock — a designer and front end developer from Paris, France who enjoys good UI and great coffee. Mikhail Madnani contributed as well.