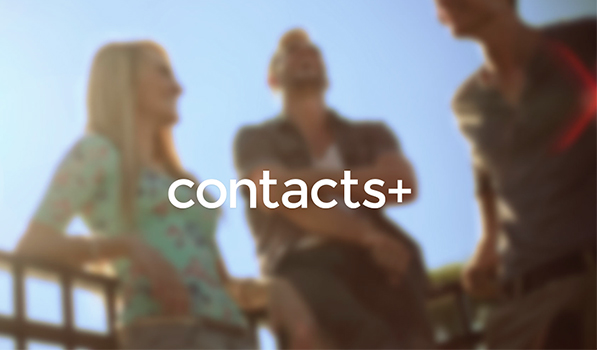 Contacts+ is a contacts management app that aims to beautify the most basic part of your phone – contacts. It integrates a lot of information from your contacts' social media profiles and allows you to tap into other apps as well.
Contacts+ intends to replace three core apps on your Android phone – Phone, Contacts and SMS. It takes care of managing your contacts and presenting it in a meaningful way. It does a far better job than the default Contacts app on Android. Contacts+ has SMS integration as well and you can turn on the feature during the startup process. Contacts+ sports a section for call logs but if you are looking for a dedicated dialer app, you can download the companion app, Dialer+ from the Contacts+ team.
On launch, Contacts+ will ask you to integrate your Facebook and Google+ accounts. It scans your Contacts and your social media profiles and links the phone numbers to the relevant profile. So your friend's latest Facebook profile picture is now their dialer icon. Contacts+ takes care of this all by itself. Linking my friends' Facebook profile/photos with their contact took me so much time when I tried to do it a few years ago. It involved syncing my Facebook contacts with Yahoo and then using a dedicated app. In short, it was a huge mess and the result was nowhere near as impressive as Contacts+. You can browse your friends' Facebook feed and pictures right from the app. When you are viewing any contact, you get a sidebar with a selection of apps that can use to contact the same contact. Tapping the Hangouts icon takes you to the Hangouts app directly with the conversation view for your contact open and ready to go. It works the same with WhatsApp as well.
[showcase id="11180″]
Contacts+ scans your call history and displays the contacts you interact with the most, first. Just like every other social app since the release of iOS 7, Contacts+ also uses circular cropped images. Barring a few glitches here and there, it does look good. When you press and hold a contact, you get three options that pop up with a nice animation – Call, SMS and Email. You can swipe your finger to the relevant option and release to select it. While this is a nice touch, the delay is a bit too long. From the actions bar up top, you can switch from contacts to SMS or call log. The SMS integration is feature rich. You get quick reply popups for every new message and the conversation view is nice as well.
You can use Contacts+ to link social media profiles with your contacts and leave it at that. But you shouldn't. Even if you don't want to download Dialer+, Contacts+ in itself can be a good replacement for the phone application. The homescreen provides you with 15 odd contacts you interact with the most. And Contacts+ gets this right. You will rarely have to scroll down to find a contact. Of course, not everyone you know uses Facebook or Google+ so expect a few stock images for some contacts. Thankfully you can assign profile picture yourself. Open up the contact and on the bottom right corner of the cover image you'll find a camera icon. From here you can import any image from your gallery. If you want to override it as the current profile picture, tap the same camera icon again and select Set as profile pic.
Contacts+ is not perfect. The images pulled from Facebook and Google+ are not high-res enough for modern Android phones. So while they look good as small icons in Contacts+ app, the call screen is a different story. Other than that there's not much to complain about. Contacts+ gives you your text messages, call logs and an intelligently sorted list of your contacts bundled together while looking good. It can also be a quick way to start a Hangouts/Whatsapp conversation with your closest friends. Contacts+ is not just a beautiful app, it beautifies your contacts as well. Contacts+ is one of the few apps that managed to find a permanent place on my dock (replacing the Phone app). And that's high praise. Contacts+ is available Free on Google Play.