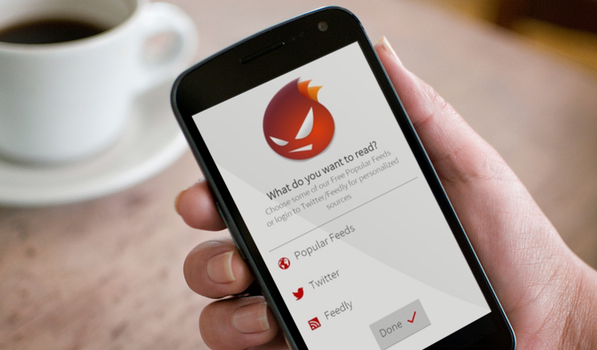 Reader was one of the most popular services from Google's stable. In fact, when they decided to can it, the backlash was quite severe, with eulogies being written from all and sundry. People believed that it signaled the death of RSS, with only the enthusiasts sticking to this news aggregation method. How wrong they were!
Subscriptions to feed aggregation services – like Feedly, Fever, Feed Wrangler and Feedbin – ballooned in the wake of Google's announcement, and users these days have more choice than they've ever had (or need, for that matter). Riding on the coat-tails of this newfound popularity are the Feed Reading clients. Consumers seemingly have Google to thank for the new developments in this segment, because this new generation of Reading apps are fantastically well designed, both from a UI and UX perspective.
Flyne is one such app, and it comes a very prestigious stable. The developer, Joaquim Vergès, is well known for being the creator of the much loved and lamented Falcon Pro. Falcon Pro was one of, if not the best, Twitter client on Android, before Twitter's OAuth Token Rules for Third Party Apps, coupled with rampant piracy, forced the developer to pull the app from the Play Store, and essentially kill it off. It was fantastically designed, with two-way sliding panels to bring up the different functions necessary for a Twitter client, such as Favorites, Retweets, Trends, etc. Happily, Flyne has inherited this pedigree from its older brother.
Flyne brings the news to your device by either pulling stories from popular sites, classified into categories such as Android, Food, Technology, etc. There is no way, however, to customize these sources. If you pony up $1.99 as an IAP, you can also import stories from your Twitter feed (essentially, a play on the new Safari's 'Shared Stories' function) or you could pay $0.99 for Feedly. Once you've selected your sources, Flyne syncs the stories and caches them to your device. This means that you can even read them offline, which is a fantastic feature.
The story view itself is exemplary. Only the header image and the text is parsed, meaning that it offers an almost distraction-free view for your stories. It would be remiss of me to not point out how delicious the Night Mode in the app is. The dark background, with the white text and red-highlighted links make for one amazing experience. A shame, therefore, that there is no in app browser. This is one feature the app could definitely stand to have. The panel functionality is here, too, with a left to right swipe from the edge of the screen bringing up your feeds, and a right to left offering up a thumbnail view of your cached stories. Swiping anywhere in the main view scrolls through your stories. There is also the ubiquitous Share button, but even that can be made to disappear with a tap on an unpopulated area of the screen. Your content is the star, and this is something I really appreciate. You can also save stories, in order to read them later.
I should point out that this is very much a beta app, which means that a lot of the features of a mainstream reading app (such as the thoroughly excellent Press) are still missing. I'm talking, of course, of features like supporting multiple feed services, widgets, customizable font styles, etc. I am confident, however, that these are in the pipeline, because past experience has shown that the developer is very active in development, and takes plenty of community feedback. In the meanwhile, Flyne is a brilliant Reader for Android and is available for the low, low price of Free on Google Play, with Twitter and Feedly integration available as separate IAPs.
Update : The article has been modified to reflect the change in IAP prices.