if (screen && screen.width < 767) {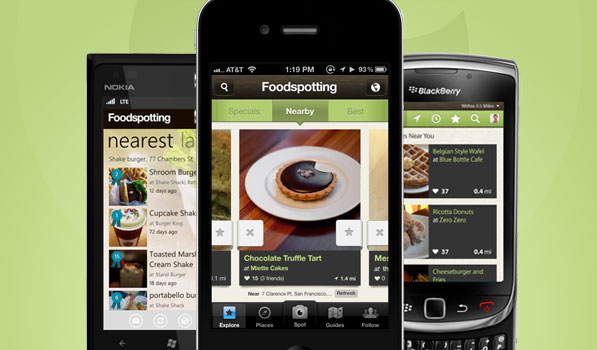 Foodspotting — The Visual Guide to Good Food
---
Foodspotting, as the name suggests, is another micro social network that revolves around the food you eat (or want to eat) in your day-to-day lives. But unlike the others, Foodspotting boasts that it is about the dishes rather than being about the restaurants. So you recommend individual dishes visually via beautiful photos instead of the whole restaurant. We've seen this concept applied for generic things in apps like Oink and Stamped already.
Foodspotting has just released v3.0 of their app for iPhone & Android and the designers there have sure managed to pack some delicious pixels in there. The app presents you with photos of dishes from various restaurants that you can either mark as Want/Tried/Loved or dismiss that specific item, dish or the place itself. The app also lets you submit your own spottings to the service. To find new dishes, you can either browse Nearby, Best, Latest or via the integrated Map view. And yes, Foodspotting also has local guides within the app, if you're into that sort of thing.
Foodspotting has had an app for WP7 for a while now, but these features were only recently introduced in the iPhone and Android apps, both having pretty much the same UI. In my opinion, the WP7 app if far more refreshing and beautiful than these platforms. The BlackBerry version is coming soon.