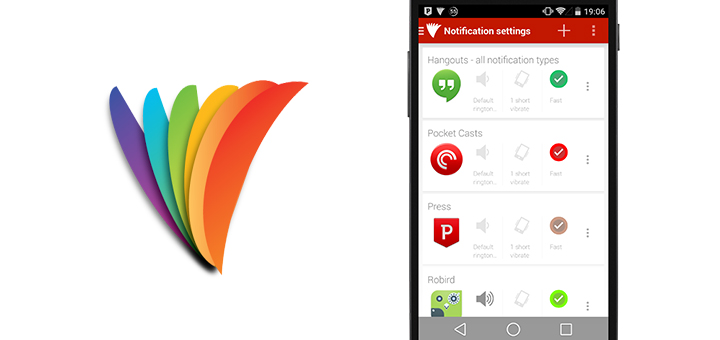 Most Android phones today have an LED notification light and many apps have started making use of this with colored LED notifications for their apps. In many cases, the default behaviour is disappointing and many apps end up using the same color for their notifications. This is where Light Flow shines. Light Flow has been around for a while and it is one of the few apps that I install first on any Android phone I'm using. The customization options are fantastic and the app support is the best in class.
I borrowed Preshit's Nexus 5 for a few weeks to play with Android L again and to see if any apps have been updated to support the new look of the operating system. Robird and Trello make full use of the transparent soft buttons bar and the status bar on L. Light Flow surprised me. Earlier versions could just about pass as a decent looking Android app but with its new look, the developers have clearly seen the light. Bad puns aside, the app now not only works great, but it also looks amazing.
Light Flow uses the Navigation Drawer introduced in the Android design guidelines for navigation. The app shows you active notifications, the notification settings and other things like in app help and a tools section. The active notifications view has a cards interface displaying the app's icon and the notification with a colour highlight indicating the set LED colour. The Notification Settings view lists the apps and settings configured with easy access to options like ringtone, vibration type, LED frequency and LED colour. Tapping the + on top will let you add a new Notification Setting here and you can even customize notifications from a specific contact from a specific app. The Tools section also lets you run a test for all the enabled LEDs which is useful to see how each colour will actually look on the device LED. There's a More Apps section that has a list of apps that support Light Flow but are not on your device. The app also has a sleep mode that can be configured from the settings which is useful to save battery when you don't need to see notifications.
Light Flow's new look is fantastic and it works great. You should install it on your Android device if it is supported because it really makes notifications easier to manage. I love how there's an inbox zero-esque screen when you have no outstanding notifications. Light Flow supports the L preview release as of the most recent version, but there are a few issues detailed here. As of now, only the paid app has the new look. I'm not sure when the free app will be updated. Light Flow is available on Google Play for $2.49.