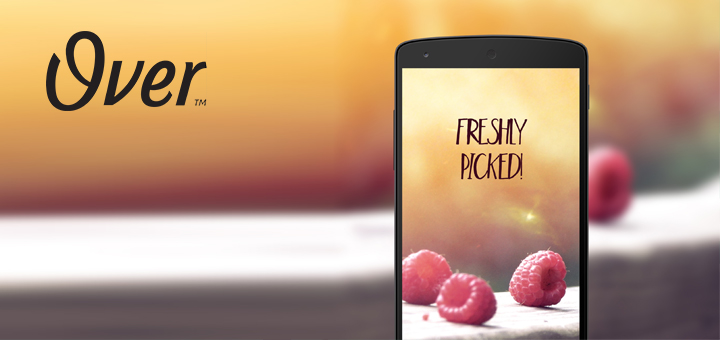 Over is an app that lets you add stunning artwork and beautiful typography to any photo. It was launched for iPhone and iPad a little over two years ago and finally it's available on Android.
While its functions don't sound too exciting, using the app for a few minutes leaves you beyond impressed. You get a couple of good looking fonts bundled with the app ranging from classic to straight up funky. The same goes for the artwork. The built-in glyphs and stickers are nice but when you hit the Over marketplace it starts to get really good. Most of the artwork packs are available for a dollar. Over will definitely take your Pinterest boards to a whole new level.
The Android app looks and works just like the iOS one. It's not a typical iOS to Android hack job because Over didn't look like an average iOS app to begin with. It is just a really well designed app and a port to another platform doesn't harm it at all. You control everything in the app from scroll wheel that's tucked off screen when you don't need it. The font and artwork options show up on the left edge and you can tap and hold to move them around on your photo. There's also a universal color picker panel above the keyboard to quickly change the color of any text or artwork. There are a lot of shades here and you'll find tinted highlights easily. These ones that go perfectly with your daily motivational Instagram post.
The best thing about Over is that it doesn't limit a user to its definition of primary use case. It provides you with the right tools and offers so much more on the marketplace. You don't have to use it to spruce up an Instagram post. You can use it to send birthday greetings to your grandma or to create flyers for your next high school event. Anything you can think of that involves some kind of text or a graphic laid over an image is possible with Over. I've been playing around with the Android app for a while now and it hasn't disappointed me. It is polished and awesome. Over is available for 50% off at just $0.99 for a limited time on Google Play.