if (screen && screen.width < 767) {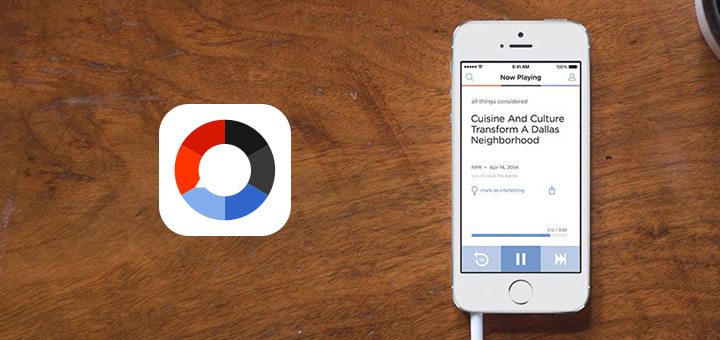 NPR One for iPhone and Android
---
NPR, the public radio network, has a few apps available on iOS and Android. NPR News and NPR Music are the most popular. NPR One launched on iOS and Android on Monday.
NPR One, just like Pandora and the Breaking News apps, is going for a curated approach to radio from NPR. The app has one of the best on-boarding experiences I have ever seen. It starts off asking you to hit play and proceeds to play a prerecorded clip walking you through the app. This includes animations showing you how to navigate and what the app aims to be. After this, you are forced to sign in via an NPR account, Google+ account or Facebook account. I absolutely despise apps that force you to sign in or create an account. Why not allow users to use a limited set of features without signing in? Forcing a sign in is really annoying. The app looks and feels elegant. Animations are playful and smooth and typography is great. There's an abundance of whitespace throughout and each interface interaction is accompanied with a playful bounce effect. The app is not big on features and has stuck to offering the bare minimum. The main app view is also the player view. Playback controls are at the bottom with three big buttons to play/pause, fast forward or rewind by 15 seconds. Blue and different shades of blue are used throughout the app. Swiping left and right in the main view will bring up the History or Coming Up view. While the app does look really simple in the screenshots, the attention to detail is mind-blowing. Even something as simple as scrubbing through audio has been handled tastefully. Tapping and holding the progress bar magnifies it and lets you comfortably pan across the bar. The share button makes use of the in built iOS share sheet and supports sharing to Tweetbot and Google+ directly. There is also a small button that lets you mark something as interesting. This tells the app what you like so it curates content better for you. While the app is just for iPhones on iOS, the Android version supports Android tablets as well. It doesn't really look good on tablets with the blown up phone interface but the app has a modern Android app look on phones.
NPR One is a great application to listen to content produced by NPR. I love almost everything about it. Once they remove the forced account login, it will more or less be the reference app for networks given how awesome it is. NPR One is available on the App Store and Google Play for free.