if (screen && screen.width < 767) {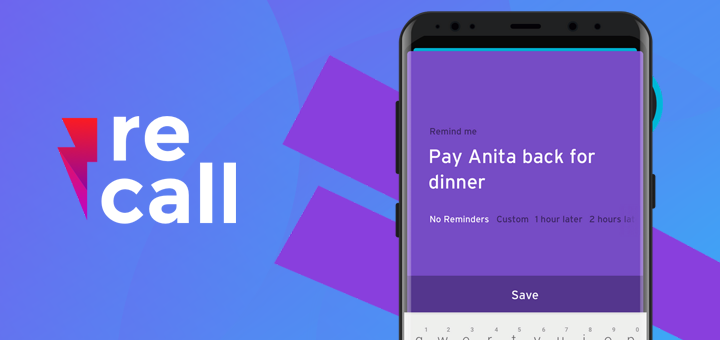 Recall — Create Simple Reminders in Seconds
---
Recall is a really beautiful Android app for creating simple reminders. Created by Felix Jamestin, it does a fantastic job of letting you create reminders in mere seconds and doesn't bother you with unnecessary options or settings.
Recall presents you with a simple text field to describe what you want to be reminded about, and optionally, when. You can quickly type something and hit the 'Save item' button and your reminder is added to the list. Just below the text field are preset options to choose from, such as 1 hour later, 2 hours later, 3 hours later, Tomorrow 8 AM, Saturday 8AM and Monday 8AM. There's also a custom option, so you can pick the precise date and time you want to be reminded at. You can continue adding reminders or swipe down on the screen to dismiss. The entry screen displays suggestions of the kinds of reminders you can add in the app. Recall is designed to make adding reminders blazing fast and it does this really well. The process is so simple and straightforward, it's delightful.
Unfortunately, Recall is a little too simple for me. I'd have loved to have an option to customize the presets. As someone who doesn't wake up before 10AM, the 8AM presets are useless for me.
Recall is still a lovely app that you should definitely try out. It's available for Free on Google Play. For iOS users, the developer says that an iPhone app is coming soon.
[h/t Kushagra]