if (screen && screen.width < 767) {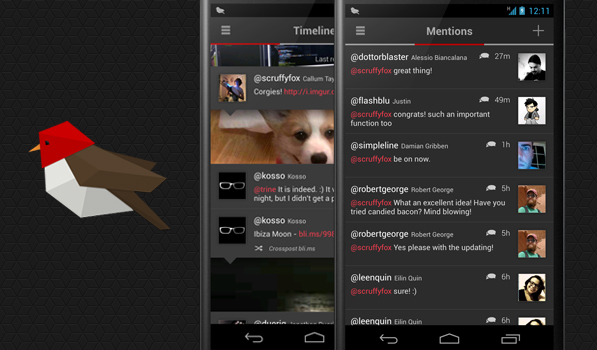 Robin Is a Feature Rich App.net Client for Android
---
In the last few months, App.net and its ecosystem have grown faster than any network I have seen. In fact I have grown to love the network like I did Twitter in its early days. Now Twitter is full of stupid social media contests that spam hashtags and other stuff you would expect to see on Facebook. App.net on the other hand is full of great conversations and developers are pushing it to the next level. It isn't a replacement for Twitter, but rather a network that can exist alongside Twitter. The problem with Twitter is that it isn't letting any third party apps grow with its new API restrictions. The best Twitter app on Android, Falcon Pro was recently hit multiple times with token limit restrictions. As of now it isn't even available for purchase on Google Play. The App.net community on the other hand is great and I enjoy using the service more and more.
Felix and Riposte are my favourite App.net apps on iOS. The iOS ecosystem already has way too many App.net apps and the only ones gaining any traction now, are the ones that do something unique like Whisper for messaging. On Android the situation is both funny and great because Robin for App.net by Callum Taylor and Damien Gribben outclasses all the Twitter apps on the platform.
On Android even with Jelly Bean and Project Butter, most 3rd party apps are a laggy mess. It is disappointing seeing Twitter apps not even scroll properly on devices with quad core processors and 2GB RAM. Robin on the other hand is smooth on every device I used it on. They've really done an amazing job with this app.
[showcase id="8407″]
There's a lovely photograph on the launch login screen that makes it look classy overall. After you sign in, you are taken straight to your timeline and the first thing you will notice here is how good each cell looks and how smooth the app feels overall. The timeline has a great scroll effect for cells sliding up quickly from the bottom and the support for inline images is amazing. Inline images have parallax scrolling and in most cases you don't even need to tap on the image to see it full screen. The image viewer is elegant and it allows you to copy, view on web, share or download the image directly. I've set it to display actions under the post on single tap but it can be configured to do that on long press. Long press takes you to post details with the conversation above if present. You navigate across sections by swiping to the left to go from stream/timeline to mentions to the global feed. I'd love an option to have private messages and channels as the third pane. Swiping is smooth and the only reason I'm emphasizing on the performance of animations and such is because this is the first social app that really accomplishes those things perfectly. Even the pull to refresh animation is great with its coloured background behind the timeline. Robin has a nice tablet UI as well. It has a multi pane layout in landscape mode and it ran brilliantly on the Nexus 7. The customizable font size and display options make it even better. Most Android apps have a light and dark theme and I usually prefer the light theme in most cases as seen in my past reviews but for Robin, both themes are awesome. The dark theme isn't just black and has some character to it.
[showcase id="8403″]
Aside from the swipeable panes, you can navigate by swiping to the right at any time to reveal the drawer that has your timeline, mentions, global, messages and channels, profile, starred posts, settings and information. You can switch accounts by tapping your profile picture on the top left and selecting another account. The in app settings has a boat load of stuff you can tweak to make the app work just like you want it to and you can even edit your App.net profile here.
Dash Clock has become one of the most popular lockscreen widgets on Android 4.2 and above. More and more apps are supporting it for notifications and such and Dash Clock displays mentions from Robin. The app already has push notifications and these are actionable and expandable. There's a setting that lets you enable quick post from notification shade. App.net has had many things come up that build upon its API like Patter and BLIMS. Robin supports Patter rooms for messaging and even uploading images via BLIMS on the service.
It is great to see apps for App.net grow on every platform. I've been using Robin since it was at 0.1 and it is one of the best apps I've used for App.net and easily the best social app on Android. Everything from its small buttons to the brilliantly designed icon has been polished over the last few months. The only real negatives right now are the lack of a robust muting system for keywords and notifications for interactions both of which are being worked on a for a future release. Robin is at version 0.9 right now and if you're on App.net and on Android, you should get it right now. Robin is available on Google Play for $2.99 and if you are looking for an App.net invite, you can grab one here.
Special thanks to Amar Kohli for lending me his HTC One and HTC One X to test some stuff for this review.