if (screen && screen.width < 767) {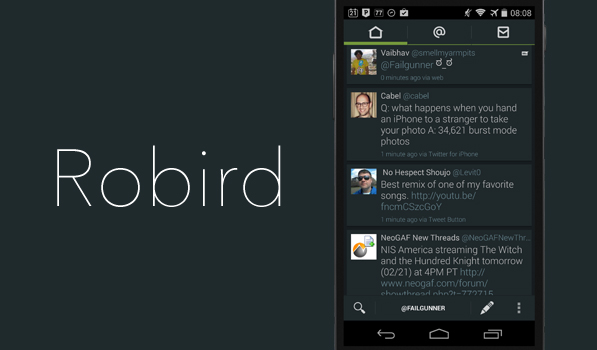 Robird — Twitter App for Android
---
When it comes to social apps on Android, the gold standard is Robin for App.net. Almost every Twitter app I've bought and tried has let me down. Apps either run out of tokens or get pirated enough to not make development worth it. I used to use Falcon Pro and then got to know about Robird for Twitter quite a few months ago. This was the only Twitter app on my Nexus 4 that scrolled well. It is almost unbelievable how well it scrolls compared to other apps on the platform. With 2GB of RAM and a super fast processor, scrolling is still a joke for most apps. Robird has improved a lot in the past few months and right now it is the best Twitter app on the platform.
[showcase id="11401″]
Robird has a really lovely and elegant look. While most apps now conform to the modern Android design guidelines, app themes are usually limited to Holo light and dark themes. Light themes look really good on the nice high resolution LCD panels but the completely black themes are pretty bad. Robird has a lovely dark theme that isn't completely black and I have been using only that so far. Robird uses the new, native pull to refresh to load new content. The main timeline view has three columns — you can slide to navigate through them and there's an action bar at the bottom, which has buttons for search, account switching, new Tweet and an overflow button. Robird uses a custom sliding animation to exit the app as well. The compose Tweet sheet slides up from the left nicely. There are options to add images and also a hashtag and username picker with autocomplete. Tapping a Tweet in the timeline slides the view to the left and the conversation is loaded below the Tweet.
Robird has a plethora of options available in the Settings section including the option to view Tweet source, toggle image previews and switch themes. Robird also has support for Tweetmarker sync for timelines and a decent muting system, which allows you to enter keywords or hashtags.
Robird is by far the smoothest and best looking Twitter app on Android right now. I wish the icon was better, but I fixed that with Nova Launcher and a custom icon. I also hate that most of the appearance customizations require an app restart. Robird is available on Google Play for $1.99 and is well worth it.