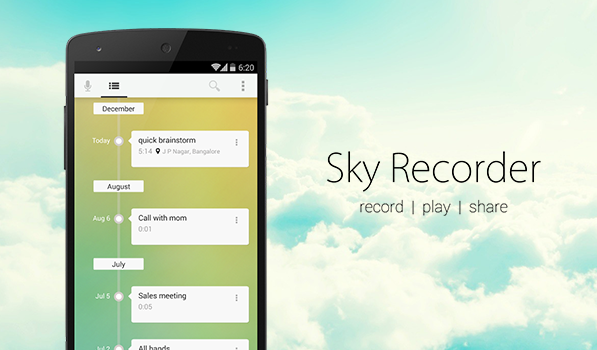 Sky Recorder is a simple voice recorder replacement for your Android phone. For a single purpose app, it is packed with a lot of features. Its design language is heavily based on Google's Cards UI, so it looks right at home on your modern Android phone. The colorful backgrounds (although static) and the UI elements do remind me a bit of Timely, which is one of the best looking apps on Android that won a place in our Editor's choice of 2013.
The UI is simple and elegant. There are two screens, Record and Timeline. You can start recording by tapping the mic icon from the Record screen. The live sound frequency spectrum view during recording is a nice touch. Once you are done recording your voice note, you can rename it, give it a tag for better management or add a geo location. Sky Recorder saves the recording to your local storage and also lets you upload it directly to your Dropbox account. You can share a particular recording with anyone using Android's built in sharing menu. The search function works as advertised and comes in handy if you take a lot of voice notes.
[showcase id="11380″]
The Timeline is where you see your voice notes displayed as a timeline in any social app. The Timeline view looks just as good on a tablet (especially in landscape mode) as it does on a phone. If you are looking to spice things up a bit, you can try one of Sky recorder's different themes. Some of which are only available for Sky Recorder Pro subscribers. Speaking of Sky Recorder Pro, the upgrade is a $0.99 companion app from Sky Recorder and not an IAP. The Pro version enables on demand Dropbox sync, adds some beautiful themes and most importantly, allows you to record mp3 voice notes in high quality 320kbps bit rate. These things make the upgrade more than worth it.
If you find yourself constantly pulling out your phone to record voice notes, Sky Recorder will be a huge upgrade from your in built voice recorder app. Sky Recorder is available for free on Google Play and the Pro version costs just $0.99.