if (screen && screen.width < 767) {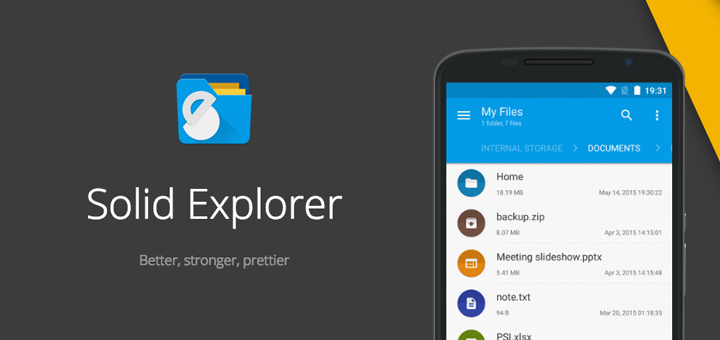 Solid Explorer 2 for Android
---
With the advent of Material Design, a lot of my favourite Android apps got major updates while others have been put on ice. I had mentioned Clean FM in the second edition of The Platter over 2 years ago. Up until last month when Solid Explorer 2.0 released, Clean FM was the best looking file manager on Android. Solid Explorer 1.0 was one of the most functional & useful apps I have ever bought, and it does a damn fine job of even basic things like photo management that are now absolutely painful thanks to Google Photos. Solid Explorer 2.0 makes the app look just as good as it works and it is easily one of the best apps you will use on any platform.
Solid Explorer has always been about a great user experience, with features like the ability to drag and drop across folders and work with your SD card data. With version 2.0, you now have a lovely dual pane layout that allows you to work in 2 folders simultaneously. There's also support for more cloud services than there are clouds above you right now. The Material Design philosophy applies not just to the look of the app, but also to animations, customization options, and even the icon. Everything has been given a Matias Duarte approved coat of paint and it is quite worthy of your homescreen. The app has a great first launch walkthrough, making sure it manages to delight you from the very beginning. The customization options let you tweak the main colour scheme or use preset color schemes that include a few paid options and the ability to use a few icon sets. I'm not a fan of most custom icon sets on Android as they are all inconsistent in some form, so I don't think it is worth investing in any of those in the app. The app ships with some Free color schemes while some are available for $0.99 each. I love this trend of new Material Design apps that allow you to pick the primary and secondary highlight color for the UI from a set of colours. There are a few add-ons for Sold Explorer available on Google Play like FTP support or support for the cloud service MEGA.
There's no ifs and buts here. This is an app every Android user needs for their device. Stop using the other file managers and upgrade your experience on Android with Solid Explorer 2.0. While the app itself is available for Free on Google Play, it is merely a two-week trial and you will need to unlock the Full Version for $1.99. I own the previous version (the unlocker) of the app, which is now dubbed Solid Explorer Classic, so Solid Explorer 2.0 unlocked as a full app automatically for me.