if (screen && screen.width < 767) {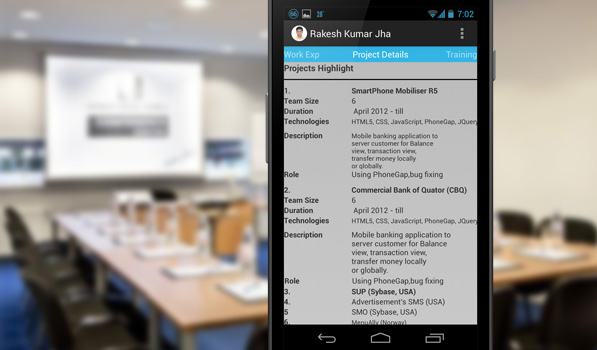 The Android App that Swept Us Off our Feet
---
We don't get to talk about Android apps much too often here on this site. Coming across a well-designed Android app isn't as easy as it is finding a gorgeous iOS app. But we recently stumbled across an Android app on Google Play that swept us off our feet. Honestly, it was hard to believe at first when we first saw it, but we've been playing with the app for the last couple of hours and we can guarantee that this is nothing short of marvelous.
The app is called 'Resume "Rakesh Kumar Jha"' and is Freely available on Google Play. And in our opinion, it is one of the most beautiful collection of pixels that we've ever seen brought together in an app. The UI is absolutely breathtaking and almost makes you wonder why iOS designers haven't managed to reach this level of perfection. There's an impeccable amount of detail in every aspect of the app — including the app icon. Heavily inspired by the rounded Avatar concept, the icon is a 100% perfectly drawn circle and features Rakesh's photo.
The app's User Interface follows Google's HOLO guidelines and works perfectly while navigating through the app. Swiping through the content feels like butter on glass, which is weird because I was eating butter-bread while playing with the app. You can navigate through different sections like Objectives, Qualification, Work Exp, Project Details, etc., which lay down all the necessary details. The text is very neatly laid out in each section and looks crisp & phenomenal, even without any padding from the edges. We love that the developer has managed to utilize every single pixel available to him, because who likes vertical scrolling anyway!?
The text in the app makes use of a terrific font, which was obviously required to go along with the beautiful UI. I have seen many Retina iPads & MacBooks out in the wild, but none of those came close to the crispness that this app was offering on the screen. It was clearly evident that RRKJ had undergone some remarkable polishing to perfection.
We love the concept of putting out dedicated app for resumes, so that you can just ask your potential employers to download essential information about you. Moreover, this also opens up the chances of them ditching their iOS device and purchasing an Android powered phone in order to view your resume. Overall, we were pretty impressed with the app. You can check it out on Google Play, it's Free.