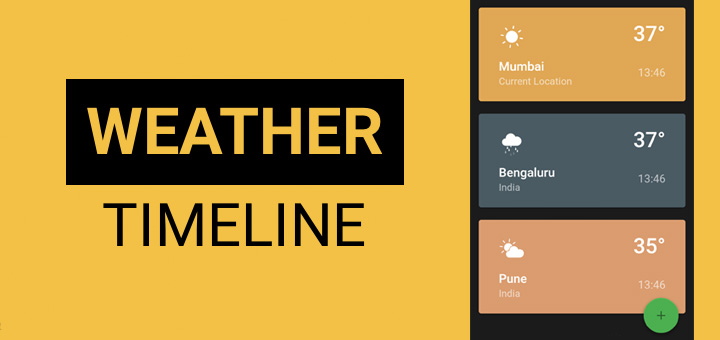 We heard from a lot of our readers who asked about Android apps on Beautiful Pixels. No, we haven't stopped writing about Android apps here, in fact we've been pretty excited about what designers do with Material Design and how they utilize Google's new design philosophy in their apps. We've been playing with a few Android apps over the last few weeks and some of them have left us very impressed. Weather Timeline is one of the apps that managed to blow us away. It's a weather app for Android that doesn't just look good, it offers a brilliantly crafted experience that has to be tried out.
Weather Timeline is a product of Sam Ruston, a Designer/Developer from England who's previously released apps like Cookbook and Flip — Currency Converter. Sam has knocked it out of the park with this app and there are quite a lot that's impressive about Weather Timeline.
Design
Just in case it wasn't clear already, Weather Timeline is gorgeous. It uses a stellar color palette for its UI and the whole thing is just stunning to look at. Every location that you add in the app shows up as a card, with an animated icon for the weather condition, the temperature, the current time. The cards have a different background color depending on the weather conditions in that city. Tapping on a city's card reveals a screen with a plethora of information. You can know the windspeed, rainfall, sunrise/sunset times, moon phases, humidity, precipitation, pressure, visibility and the actual temperature or "feels like" temperature. This is followed by a timeline of weather forecasts over the next few hours and days. The design and function of this screen is something to marvel at and the animated icons used only add to the wonderfulness of the whole UI. There's an icon at the top to view graphs for Temperature, Precipitation, Wind and Pressure and another that displays the Radar over a Satellite view of the map and the timeline at the bottom. You can hit the 'play' button at the top and see how the weather will change over the hours. It's quite something.
Customization
Weather Timeline offers plenty of customization options. There are five themes that you can choose from — Classic, Neutral, Material, Bright and Custom, with the first four having a lovely color palette and the last one letting you choose your own. You can also choose which Icon Set the app uses, from choices like Weather Timeline (WT) Animated, WT Static, WT Colored, WT Material or icon sets by designers like Roy Soetantio, Orlando Marty, DuckDuckGo, GraphBerry or Adam Whitcroft (Climacons). There are options to toggle min/max temperatures and the option to show/hide them on the cards as well as other minute customization options for the interface.
Notifications and Alerts
Weather Timeline offers the ability to display a weather notification in the tray. You can pick which locations you want to see in the notification (Usually your current location) and even have the temperature itself appear as a notification icon. Glancing at my phone, I can see that it feels like 38 degrees in Mumbai and over the next 24 hours, it's going to be partly cloudy. You can also enable alerts for Rain as well as turn on Umbrella warning. Weather Timeline also has the option to show the weather on your Android Wear watch, if there's one connected to your phone.
Special Mention: Moon Viewer
Slightly hidden from view, Weather Timeline has a amazing feature that lets you view the moon phases spread over a fortnight. You can drag your finger on the screen and see what the moon is going to be like on a specific day. You've got to try this.
You can choose between Forecast.io, Weather Underground, YR.no, OpenWeatherMap or World Weather Online, Depending on where in the world you are and which source works best for you.
Weather Timeline is possible one of our favorite apps that we've come across on Android. It seems like just a pretty weather app but as you get to using it, you realize there's a lot more to us and it's the little things that you discover in the app is what makes the app so good.
Weather Timeline is available for $0.99 on Google Play.