if (screen && screen.width < 767) {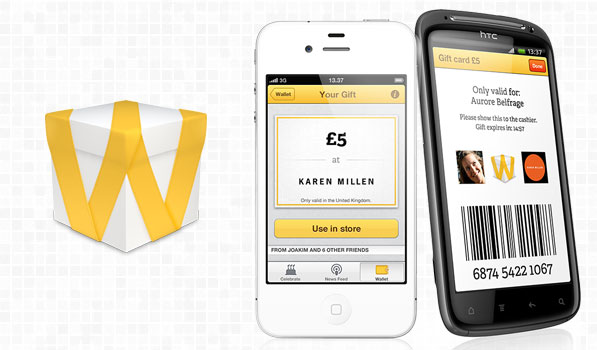 Wrapp is a Gorgeous Social Gifting App for iPhone & Android
---
The tradition of gifting things to people has been going on for ages. Everyone loves gifts! There's something about it that incites eagerness and immense joy at the same time. The act of gifting seems to be gradually diversifying from gifting just materialistic things to virtual goods. A teenager these days would be much happier being gifted a virtual downloadable game on his X360 rather than a board game. Wrapp for iPhone and Android is a marvelous app that will make the entire virtual gifting experience an absolute pleasure.
On opening the app for the first time, you will be asked to login using your Facebook account. A beautiful grid view of your Facebook friends is shown in order of their birthdays and neatly separated by months. To send a gift all you need to do is, select the person you want to send a gift to and choose a gift from a list. These gifts range from free magazine subscriptions to redeemable coupon codes for restaurants, spas, toy shops, clothing brands, movie theatres, florists and even furniture and home accessories. Once you select your gift, you are given the option to enter a personalized message. You can choose to send the gift by posting it on your friend's timeline, email or SMS. Your friend will receive a push notification if he has Wrapp installed and can choose to like and comment on the gift. If he doesn't have Wrapp installed, he will receive a link to an attractively formatted page, which displays your gift and a link to installing the app. The news tab will show you your entire gifting activity. You will know exactly when your gift was opened and what comment was made. The only downside to Wrapp is that its completely dependent on Facebook, that means if you want to send someone any gift, he/she needs to be in your Facebook friends list.
Wrapp is simply stunning when it comes to looks. Everything from the lovely ribbon animation for loading to the brilliant use of festive colors and intricately decorated gifts make it one of the best ways for virtual gifting. The Wallet section, which stores all the gifts you've received, has a wonderful textured feel to it. It's a pure treat to see the wallet icon in the tab bar open and watch your gift fly into the wallet. All the cards neatly arranged in pouches look spectacular. Also, do not miss the falling dolphin shark animation in the About screen.
Wrapp is available for the iPhone and Android for Free. I'm sure you'll love it!