if (screen && screen.width < 767) {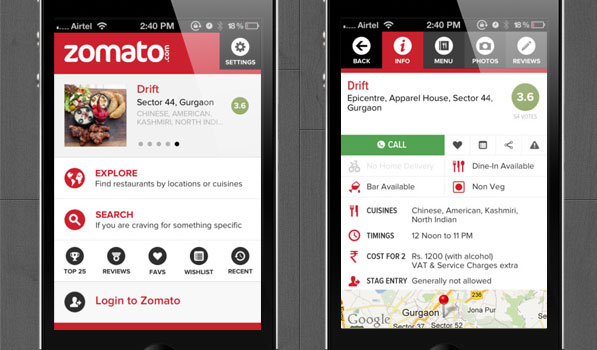 Zomato's iOS App Update is All Kinds of Awesome
---
We recently wrote about Zomato's Windows Phone App here on Beautiful Pixels and in the review, I'd mentioned how their iOS and Android apps were plain and boring. Zomato has gone ahead and released updates to both their iOS and Android apps and I'm glad that they have completely rewritten the apps for these two platforms.
While the Android app is plagued with a few font issues, the iOS app is near perfect. It feels much more refined now and it has shed all its plain native look with boring red gradients. The app is now full of solid colours that match the brand. Even the launch screen has a nice sliding animation for the page that forces you to log in or sign up for an account, though the action buttons do feel out of place here. They have removed the unnecessary shake for random feature and have made everything look great. I love the restaurant slideshow on the top half of the screen. The icons used in the app have a very Metro Windows 8 feel to them. The app also has a swiping pane UI for the settings view that lets you choose your city and has your restaurant review drafts saved. The new and improved restaurant page is definitely the highlight of the app and the app now features the tabs on the top as opposed to the bottom where most typical applications have a tab bar. I really like the typography here, unlike the search section of the app that has an insanely small and almost unreadable font.
It is a joy to find restaurants using the app with the new UI. I hope they fix the font issue in the search section so this app and also all the font issues in the Android app. It is almost unusable on my Nexus 7. They are also working on an iPad app and given the rewrite to the iPhone app, I for one am looking forward to that.
Zomato's new and improved iOS app is available for download FREE from the App Store and the Android app is available on the Play Store.