if (screen && screen.width < 767) {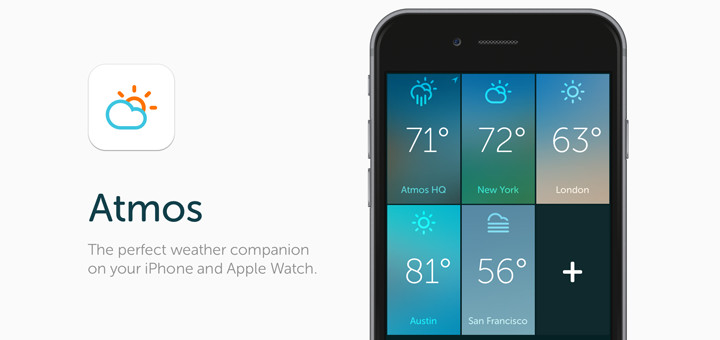 Atmos — Beautiful Weather App for Apple Watch & iPhone
---
It's been a while since we've spoken about weather apps on Beautiful Pixels, haven't we? There was a huge storm of releases a couple of years ago and we were seeing a new weather app released every few weeks. Thankfully, that storm receded and we're only seeing good quality weather apps that don't just sport a great UI, but also offer a fantastic UX to go along. Atmos is a new weather app for Apple Watch and iPhone that exhibits all these qualities, and a lot more.
Atmos is one of the nicest weather apps that I've ever seen. It sports a beautiful design and a slick UI. The designers and developers at Enormego have paid special attention to make sure that there's a lot of weather-related information available in the app, but it's displayed without cluttering the UI or making the interface overly complicated or overwhelming. The app is seriously well-crafted. There are subtle animations implemented at various places that do a stellar job of filling you with delight.
Atmos is powered by weather data sourced from Forecast.io, something that's slowly becoming the standard source for good weather apps these days. The app supports tracking the weather of multiple cities at the same time and displays a nice 3×3 grid at a time on screen, showing you the current temperature, a glyph of current weather conditions as well as a custom, hand-crafted background theme of what the weather is like in that city.
Tapping on a city displays all kinds of weather data. You can glance at the current & "feels like" temperatures, weather conditions for the next day and next week and a timeline of the temperatures and weather conditions for every hour over the next 24 hours. I love how the app managed to add Sunset and Sunrise timings within this timeline. Swiping upon this screen takes you to the screen that shows you the weather conditions for the next week. You can dive into each specific day and view the forecast for that day on a separate screen.
Atmos also offers a Today widget for your Notification Center, which is just as beautiful as the app. You can customize the widget by choosing which city or location you want to display, along with daily or hourly forecast, summary text, precipitation chart and the icon type. You can view a preview of what this will look like at the top of the screen, which is nifty. In the Settings, you can also choose between a Standard (Default) Status Bar or their own custom implementation called "World Clock" which displays the local time of the city you're currently viewing the weather of.
For the Apple Watch, Atmos offers a simplified version such that only the important data is available to you. The app doesn't inundate you with unnecessary information at all.
Atmos is without a doubt one of the coolest weather apps I've tested and I highly recommend it to everyone. You can grab it from the App Store for just $2.99.
Update: I've been testing the app over the last few weeks and some of the features I talk about are part of the current beta that the developers hope to have on the App Store soon. The following features are part of the beta and not available on the App Store version yet:
Ability to choose a location for the Today widget
Humidity & "Feels like" temperature options.
Status bar toggle