if (screen && screen.width < 767) {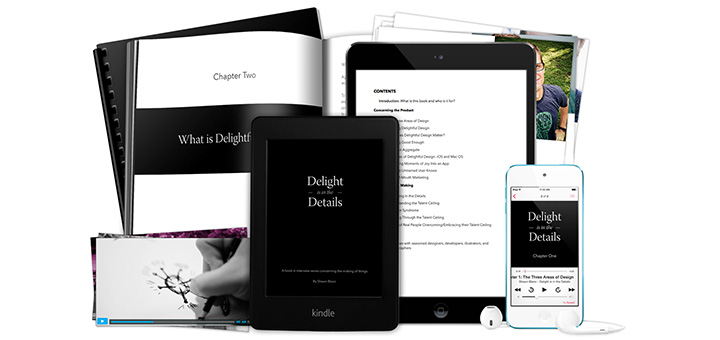 Delight is in the Details — Discount & Giveaway
---
Back in July, we wrote about Delight is in the Details version 2.0, the amazing collection of ebook, audio book, interviews and Q&As put together by Shawn Blanc.
Delight is in the Details is a downloadable kit that contains an ebook, an audio book, 10 audio interviews (with transcripts) and 8 Q&As with some of the best designers, developers, writers, and makers of the creative industry, 3 beautifully crafted videos & a Resource Index. With this, Shawn makes a case for sweating the details & putting that extra effort to make good things great.

If you're someone who does or intends to create things, could be anything, you most definitely should get this.
Shawn was kind enough to offer a special discount on the Complete Kit of Delight is in the Details for the readers of Beautiful Pixels. You can purchase the download everything in the kit for just $29 (25% OFF) using this link.
Giveaway
We're also giving away five copies of the Complete Kit to our readers. All you have to do is tweet out to @beautifulpixels on Twitter and tell us what your favorite little detail is in any app. We want to know what delight in the details you have discovered. Tell us about any animation, interaction or even an easter egg that has delighted you when using an app and stand a chance to win one of the five copies of Delight is in the Details.
Update: Winners announced!
Congratulations to Benjamin Carlton, Marcel, Nikhil Nigade, Vikas Pawar & Mint Shows for winning our Giveaway. Email us at contact@BP to claim your copy.