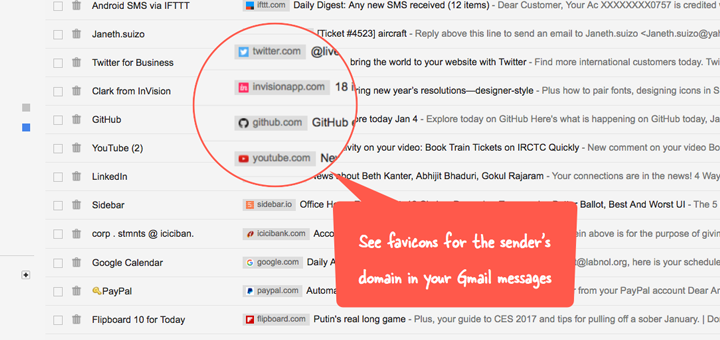 Gmail Sender Icons is a Browser Extension for Google Chrome that displays additional information about the sender. The extension helps in knowing more about where the email you that received originated from.
Gmail Sender Icons is a must-have extension if you use Gmail's web interface and helps solve a very peculiar issue with it.
The problem with [Gmail's] layout is that you cannot figure out who the actual sender of a message is without actually opening the email. For instance, if you get an email from Angus who works at Google and a second email from another Angus who is employed with Microsoft, Gmail will simply show Angus as the sender for both emails.
The extension adds the sender's domain and favicon just before the email's subject in the list, so you can quickly know who the email comes from. Who knows, may be Clark from InVision can finally change his sender name. Okay… probably not.
Gmail Sender Icons comes from Amit Agarwal, who is best known for his very resourceful 'Digital Inspiration' blog over at labnol.org. Amit says that the extension runs completely client-side in the browser and that "not even a byte of your Gmail data is shared with anyone outside your browser".
You can grab it for Free from the Chrome Web Store.