if (screen && screen.width < 767) {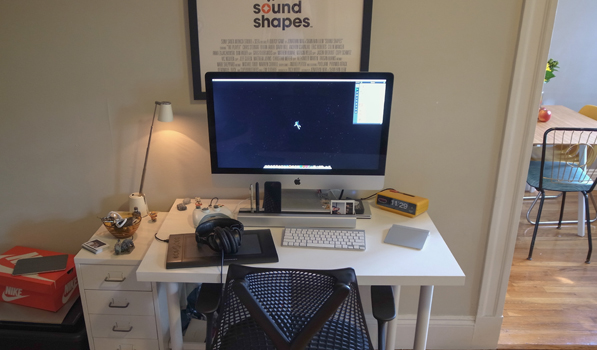 The Dialogue: Cory Schmitz
---
Little over a month ago, we published the first Dialogue on the site. This will be a monthly feature where we talk to artists, developers and designers we love. This month's Dialogue is with none other than Cory Schmitz, a freelance graphic designer and illustrator who has worked with clients like Sony, Microsoft, The Verge and Polygon to name a few. We had the pleasure of interviewing him about his workflow, clients and how he creates things that we can't stop looking at.
The Dialogue is a series that is published exclusively for our members first, so make sure you sign up and help support Beautiful Pixels.
Can you tell us a little bit about yourself?
Hello! I'm Cory Schmitz. I'm a freelance graphic designer & illustrator living in Cambridge, MA. I design logos, posters, album covers, shirts & more for folks like PlayStation, Anamanaguchi, Polygon, Jim Guthrie, Double Fine, & Elijah Wood. I graduated from Cornish College of the Arts in Seattle in 2010, worked at an advertising agency for a year, & I've been freelancing since. Some of my biggest projects have been my work on the PlayStation game Sound Shapes, my branding work for Polygon, & my video game magazines EXP. & the Controller.
I know you do digital design and also analog design from vinyl sleeves to online branding. What do you prefer doing (and why)?
Honestly, I love both. Most of my work from the past year has been branding, but I try to do as many posters/shirts/album covers as I can. I like to work in multiple formats & have a varied portfolio. Projects like album covers & posters allow me to work with photos & textures, rather than logos which are typically only vectors. Also, projects like gig posters tend to be more experimental & less strict than branding which is refreshing. I still love making logos, though.
You've worked on one of my favourite games of all time, Sound Shapes which is basically the reason I own a Vita today. How was it designing for a video game instead of logos and posters only. How deeply were you involved in the game design? Was this your first project with Sony?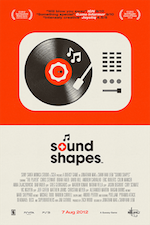 Thanks! Sound Shapes was an amazing project to work on. Queasy & Capy are such amazing, talented people. Working with them was a huge honor & I'll never forget it. For Sound Shapes, I designed the logo, the menus, hundreds of icons, the player character, several in-game items, merchandise & more things I can't remember, haha. The style of the game was really simple & flat; all vector. In that sense it wasn't that much different than designing logos. As for the game design, that was mostly handled by other folks on the team, but I had a couple ideas that made it into the game, they were all visuals, though.
It actually wasn't my first project with Sony, I had worked on a few Uncharted 3 designs before. But it was Nathan from Capy who introduced my to Jon Mak & Shaw-han from Queasy & got the ball rolling.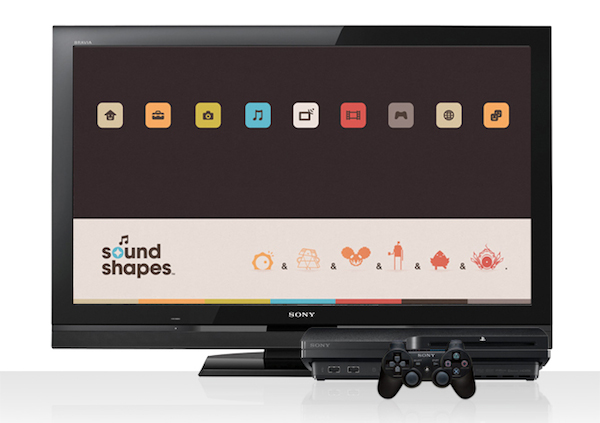 Tell me about your design workflow. How would you start working on a project from start to finish. At what point do you decide to stop with the "final touches"?
I usually begin every project by researching. This involves gathering images online, finding visual inspiration, reading up on the subject, basically anything to get my mind more involved in the project. Then I start sketching (in Adobe Illustrator or in an actual paper sketchbook, it doesn't matter to me). After a while, some of the ideas click, & I tweak them until have a some final-looking options. I present those directions to the client, then it's a back-&-forth until everyone's happy. Sometimes I'll get it right the first try, & sometimes it takes months of tweaking. It really depends on the project. I'm not sure what other designers do, but this is the process that makes the most sense & works best for me.
You mentioned Adobe Illustrator. What software do you use the most for your design workflow and what hardware are you currently using for the same? Also mention some must haves when it comes to software and apps for you on the devices you use.
Adobe Creative Cloud is super-important to my workflow. I mostly use Photoshop CC & Illustrator CC, but I also have InDesign CC & Lightroom 5 in my dock in case I need to lay out a zine or edit a photo. I use Cocoapotrace if I need to vectorize something (this works much better than Illustrator's Image Trace), FontExplorer X Pro for font management, VueScan for scanning in photos/magazines/sketches/whatever. I use the Notes app for keeping my freelance projects in order, Mail for email, & iCal for scheduling. For sharing lil' files quickly, I use CloudApp. I use Dropbox to keep all my design work synced between my two computers (& for sharing large files). If I need to write something up (like this interview), I use iA Writer.
My primary computer is a 27″ iMac with 16GB RAM, a 1TB Fusion Drive, & a 3.4GHz Quad-core Intel Core i7 processor. I use the keyboard & Magic Trackpad that it came with. I like trackpads slightly more that mice. I use a Tursion 10″ x 6.25″ tablet for drawing. It's a generic brand (I think), but it's as good as any Wacom I've used. I don't draw very much at all, though. I have a Desk Rail to hold my tablet stylus, a couple pens, my phone, etc, & keep my desk organized. My on-the-go computer is a 15″ MacBook Pro with Retina display. I have two little WD My Passport 1TB USB external hard drives for Time Machine backups.
I try to incorporate photography into my work occasionally. My favorite film camera is my Contax T3. I usually use expired Fujifilm Reala 100 film. For digital I use a Ricoh GR Digital IV. I have a 4GB Eye-Fi card for my digital camera, & it's really cool & works really well.
What's your dream work setup, if it isn't what you already have right now?
I'm pretty much set for right now. As long as I have a speedy desktop & laptop, I'm set. I work from home, so It's important for me to have a laptop so I can work in other settings occasionally, so I don't go crazy.
What is the most important trait or characteristic you think designers need to have?
Wow, that's a tough question. I'm not sure! I don't really think about things like that too much, to be honest. Understanding, patience, open-eyes, adventurousness, taste, & curiosity are all important. You can go to art school & learn skills, but if you don't have good taste & an eye for what looks good, it's useless. I don't know if that's a good answer or not. I'll have to dwell on that question for a while!
What are your primary sources for inspiration for design inside and outside what you do?
I try to keep my eyes open at all times for beautiful & inspiring things. Seeing my friends' work is a big inspiration for me. I love bouncing ideas back & forth with them. With Twitter & Tumblr, it feels like there's a constant flow of great work coming in. I compile a lot of images I find interesting or inspirational on a Tumblr blog.
Every so often, I'll see a work that has so much love & dedication poured into it, I think "man, I have to step my game up & make something great". I felt that way when I played the video games FEZ & Superbrothers: Sword & Sworcery EP. I recently watched the film The Institute, about the Jejune Institute. I keep thinking about about it. What it would take to create a project like that. Not to mention the imagery used in the project was beautiful. Truly inspiring. This happens every so often & it can be anything; other design work, film, music, video games, fashion, architecture, anything. I try to absorb as much as possible.
According to you, what is the one thing you feel that sets you apart from the rest?
I'd say it's a mix of of my work output & my style. I think I've carved a little niche into the video game space, but I also do work for musicians & other types of clients. Style wise, I use a lot of photographic elements in my designs, whether it's actual photos, textures, etc. I also try to use as few colors as possible, so most of my work is a one, two, or three-color designs. I suppose it's just little things like that that set me apart. I don't have a schtick or anything, but I think my work is still recognizable.
Some of Cory's Work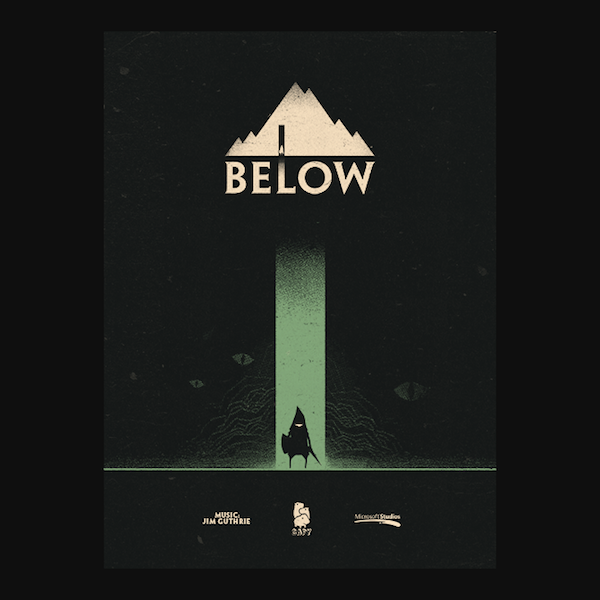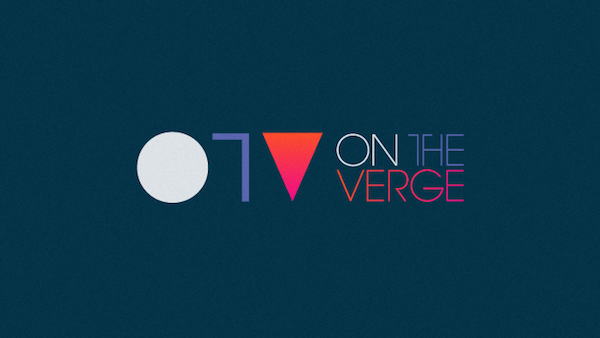 The Dialogue is our new series where we talk to our favorite designers, developers & artists and get to know their what they're like, their likes & dislikes, their work desk and the apps they use and other interesting tidbits.