if (screen && screen.width < 767) {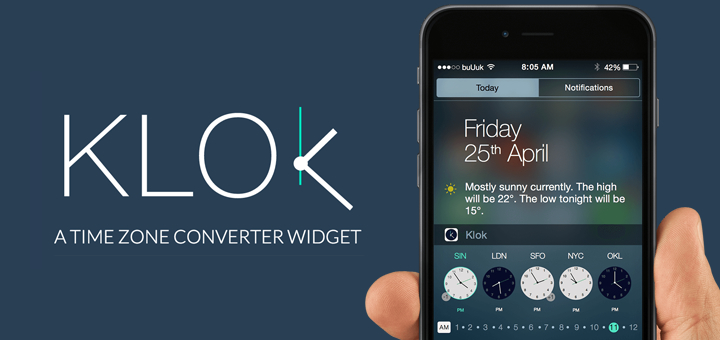 Klok Is a Superb Timezone and World Clock Widget
---
With the launch of iOS 8, we saw tons of apps get widgets for the Today section of the Notification Center. Many of them just added widgets for the heck of it, like Dropbox with their useless "recent files" widget while others did great things, like Evernote. Today, we see tons of great widgets for apps and even apps that solely exist as a configuration screen for widgets. Klok by buUuk is one such app and also one of the most useful widgets on my iPhone.
Globo has been the de-facto world clock app for iPhone, but what it lacks in a widget, Klok takes care of everything. Klok's app view lets you add timezones and choose whether you want the widget to display an analog or digital clock for timezones in the widget. The app looks really nice with its elegant dark look. There's also a small guide on how to add widgets to your Notification Center for the uninformed. The actual widget is interactive. It has an animated seconds hand in the analog form and you can tap on a particular timezone to reveal a slider below to adjust timezones and view the results right there across all the clocks. There's even a lovely on-boarding experience on the widget when you use it for the first time. Subtle bounce animations are also at play when you tap different hours of the day.
If you work across timezones or need to keep track of them, this widget is what you have been waiting for. Klok is available for free on the App Store. An Apple Watch app is in the works as well.