if (screen && screen.width < 767) {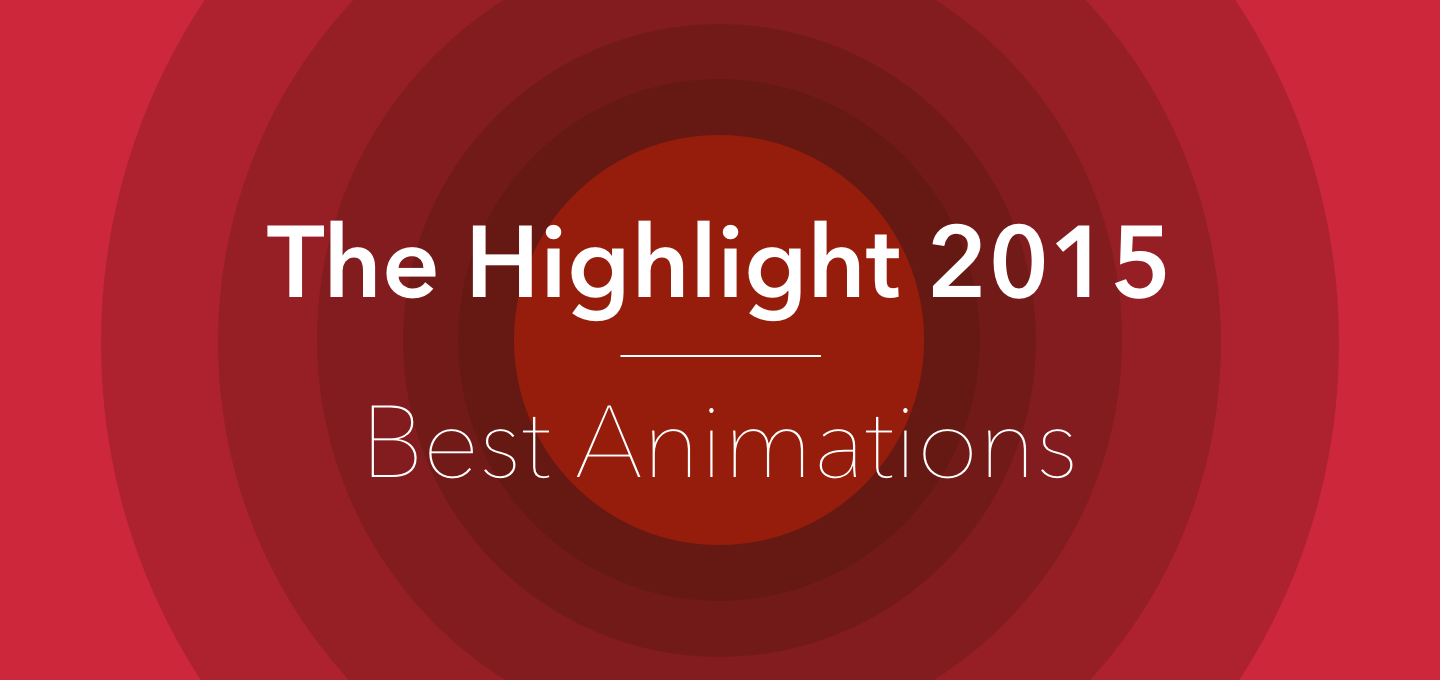 The Highlight 2015 — Best Animations
---
What we know today as 'The Highlight' here on Beautiful Pixels actually began back in 2012, when we started highlighting our favorite apps and games that we'd seen over the last 12 months. As part of this series, we've been showcasing the best UI Animations seen in apps and other platforms. It is always great to see how designers and developers innovate on something most people wouldn't usually pay attention to. Over the last years, this has been the most popular post in the series and today, it's time to bring you our picks of the best animations from 2015.
Note: This post contains embedded videos from YouTube that demo the animations from each app, so make sure you view them. Here's a handy playlist of all the videos on this page.
Reuters TV has been one of my favorite iOS apps to have come out this year. Originally released on iPhone back in February, Reuters TV is now also available for iPad, Apple TV and even on the web. The playful animations in the app have managed to intrigue me since day one and the app does a wonderful job of offering a delightful experience. I love the intro screens in the app and the way the videos slide around. Reuters TV is a lovely way to catch up with the news at the end of the day.
Wildcard has found a place on my Homescreen ever since I first wrote about the app back in August. As you can see in the video below, the app has been crafted with some lovely animations and is an absolute joy to use. If news in the form of video isn't your thing, Wildcard is what you want.
If there is one service that has me desperately waiting for its launch in India, it's Stripe. This payment processor has managed to take the web by storm ever since its launch and continues to be the best option for anyone to accept payments on your website. Stripe offers a beautiful iPhone app to monitor the activity in your account and keep an eye on incoming orders and payments. I love the delightful UX of the app via its cards-based User Interface.
Keezy comes from the folks at Elepath, the same talented bunch who brought us Keezy Drummer. Keezy is a joyful soundboard app and is a fun way to play with music and record your own tracks by jamming on a 2×4 tile layout. You can either pick from the 15 default soundboards or record your own sounds in them. Check out the animation when you tap the button in the center.
Tumblr's Android app was the first app to make it to this list here. There's an animation that plays out when you tap on the new post button — the pencil glyph transforms into an X as the category icons fan out in the middle of the screen. If you though this was cool, try and hold down on the button and move it around, or lift your finger. Well, just watch what happens in the video below. The iOS app has similar animation when you tap the button, but you can't actually drag it around.
The Highlight 2015 is brought to you our friends at Squarespace — the stellar way to build a website in minutes. Check them out and use the code 'BEAUTIFULPIXELS' to get 10% OFF at checkout.
Google took something as trivial as a boot-up animation and made it special. While Google Now and Google Search have received their fair share of elegant animations this year, the boot-up animation is our Highlight. The only thing that would make this even better is if it was interactive in some way. Watch the video below to see what we are talking about.
YouTube Kids features this set of icons at the top that animate when you tap on them. The app itself is great, and it has some lovely sounds too, but it's these icons that seal the deal for me. Take a look below.
Vegourmet is a great example of when a developer goes that extra mile to add not just polish and intricate details, but also some delightful touch to the app. The animated steam coming off of the items is one of our favorite little touches in any iOS app to date.
Scanbot is a intricately crafted scanning app for iOS and Android from the house of doo. The designers and developers behind Scanbot have continuously made it better of many months and it is one of the most popular scanning apps out there today. As part of a Christmas promotion, Scanbot was giving away Free and Discounted coupon codes to users who already had the app, in order to give them as gifts to their friends. Here's the absolutely gorgeous animation that was presented to the users:
Coming up next on The Highlight 2015 tomorrow is our official Editor's Choice of 2015. These are the crème de la crème — the apps that managed to stand out and won us over in 2015. You do not want to miss this.
Till then, let us know about your favorite animations in apps or on the web on Twitter @beautifulpixels or Facebook /beautifulpixels.
You should also Subscribe to us on YouTube for more videos about app demos and UI animations.
Here's what we've published as part of The Highlight this year:
[Masthead by @Sonaal, Marshmallow Boot animation via Android Police]