if (screen && screen.width < 767) {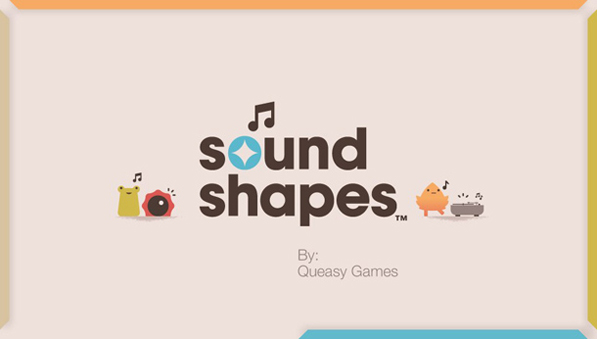 Sound Shapes is a Beautifully Unique Musical Platformer
---
We've started featuring a lot more games than we used to here on Beautiful Pixels. This is partly because the quality of indie games is higher than ever before. Most indie games usually have great and unique visuals. Until a few months ago, I never considered the PlayStation 3 or PSVita important for anything but classics and your typical Call Of Duty-esque shooter with a few more boring games. Microsoft's Xbox 360 and Xbox Live Arcade had some of the best games ever. Things have changed. With more and more developers moving away from Microsoft's Xbox exclusivity, other platforms have started seeing great indie game exclusives. Sound Shapes by Queasy Games is one such gaming experience. I first heard about it because it has one album with visuals by Superbrothers and sounds by Jim Guthrie who previously wowed everyone with Sword and Sworcery. I haven't been able to play it until recently when I came into possession of a PlayStation Vita. Sound Shapes is more than just a game.
Almost everyone was skeptical about the PS Vita form factor with a touch pad at the back along with controls and a touchscreen on the front. Many games just try and make use of newer controls for the heck of it making gameplay increasingly annoying. Queasy Games have done a wonderful job of making use of the back touch pad with this game. Sound Shapes combines brilliant music done by Jim Guthrie, Beck and Deadmau5 to name a few with unique visuals to create one of the best music experiences anyone can have. Each level is a journey and you tend to enjoy each song the game has in its campaign mode.
The core gameplay involves you controlling this small blob that rolls and sticks to some surfaces. You control the blob with the directional pad or the left analog stick. You can move faster or not stick to surfaces by holding square or the right shoulder button. You can pick an album to play and each one has sounds and visuals by a different artist. Each album has about three to five songs. You collect coins and circles that add to the music track going on and there are checkpoints that save you. There are no lives as such and you can keep dying when you touch anything that is red coloured in the background. Each album has its own set of obstacles and some of them like Beck's Cities get kind of insanely hard to play.
After you finish campaign mode, you unlock Beat School where you plot the song being played and Death Mode that is basically a time based addition with more objectives to Campaign mode. While it may not seem much, the real beauty of the game lies in the community created levels and the DLC (downloadable content) potential. Users can upload their creations online and others can play them. Sound Shapes also has a music composer that lets you use unlocked samples from within the game in a grid. You can place and adjust samples with the front and back touch controls.
Sound Shapes is what a modern day music game should be. It is an artistic platformer that appeals to your visual and aural senses. Sony was definitely wise to make this exclusive to their platforms. Gorgeous visuals coupled with amazing original music is what this game is all about. Community support with levels only makes things better. Sony has started giving you a game for free on the PlayStation Vita if you own it on PlayStation 3 or vice versa. This isn't applicable to all games but is a nice touch. Sound shapes is available digitally for £9.99/€14.99/$14.99 from PlayStation Store. Headphones are recommended.
[Photo Credit: Game Informer]