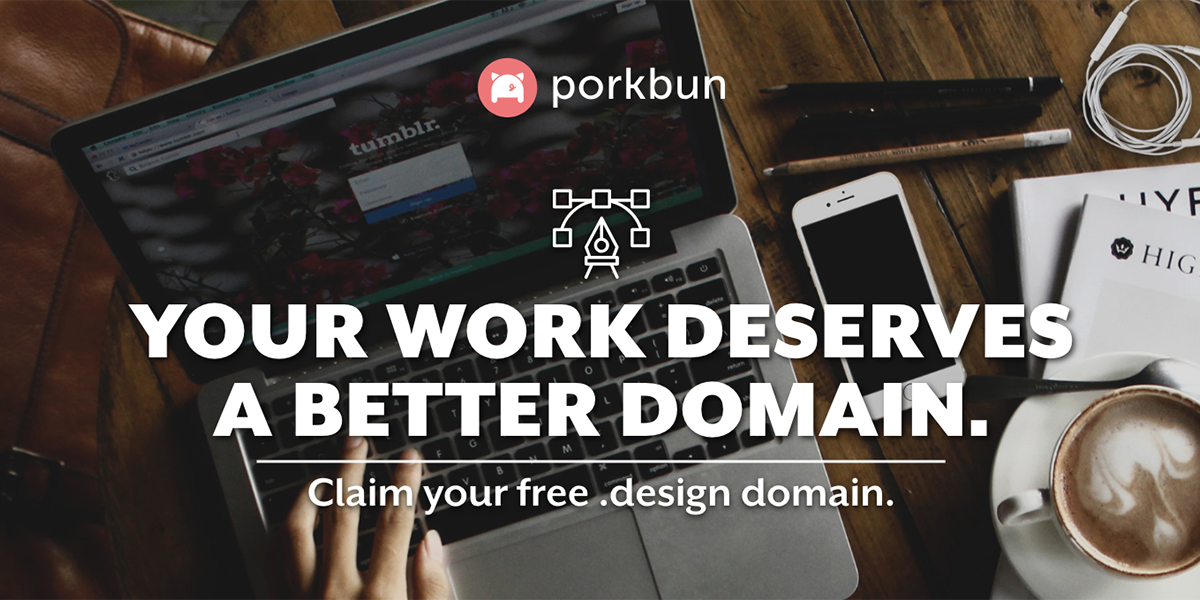 Grab Your Free .design Domain For Your Website!
---
It's that time of year again. We've seen a lot of excitement around .design domain names and we've decided to open up our free .design offer again. Right now you can get your free .design domain name for your website! Because your work deserves a better domain.
You make a powerful first impression when you show your website to someone and it has .design in the URL bar. It sets you apart from other websites. People instantly look at you from a different perspective, because .design communicates that you're professional, an expert in your field, and you're modern.
.design helps your customers instantly understand what you do as a company before even arriving to your website, because design is in the URL. It also helps with SEO because Google uses the domain name as part of its criteria when ranking your website.
.design provides you with a name that is easy to say and easy to remember. Most importantly, .design is for designers.
Because there are over 285 million .com names that have already been taken, it's likely that the domain name you want is not available under .com. However, there is a high chance that the domain you want is indeed available under .design. First and last names work great, or you can be creative when thinking of the ideal name you want.
Just like last time, it's important to remember that your free .design domain name comes with:
FREE EMAIL HOSTING – you can add an email address (or multiple!) that matches your domain name. For example, anne@goldsmith.design or info@goldsmith.design, or any other name you want.
SSL SECURITY – An SSL certificate will encrypt your visitors' sensitive data, and also display your site with "HTTPS" in your address bar, which will let visitors know that you've made their security your top priority. You'll also avoid the "NOT SECURE" label from Google.
FREE WHOIS PRIVACY – Your contact information will be private, and protected forever. Other registrars charge you for this. We won't.
FREE WEBSITE BUILDER – If you want to build your .design website with no code, you can build it for free using our site builder, powered by Weebly. And with this option you don't have to pay for website hosting.
A KNOWLEDGEABLE SUPPORT TEAM – should you ever have questions about your website.
FREE WEBSITE CONTENT – tips and tricks to help you get your website set up, or connect it to Squarespace / Wix, if you've already built your website.
Maybe you already have a website name, but want it to be more reflective of what you do as a designer. Or maybe you've come up with a great name for a website name, only to find out that it's already taken.
Either way, here's your chance to claim a free website domain name that reflects what you do and helps showcase your work.
Take me to my free .design domain name!
*this offer does not apply to premium names.
This content is sponsored via Syndicate Ads.