if (screen && screen.width < 767) {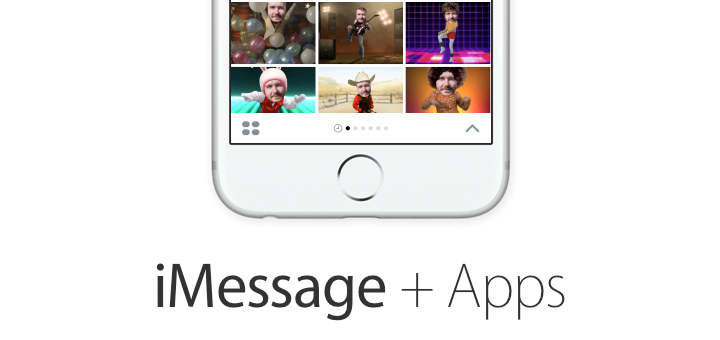 Our Favorite iMessage Apps for iOS 10
---
Apple today has officially rolled out iOS 10 — its biggest iOS release ever just a few hours ago. iOS 10 has several great features worth discussing, but there's no doubt that the most talked about features are going to be iMessage Sticker Packs and iMessage Apps. With iOS 10, the company has extended the functionality of its rather plain and boring iMessage service with the introduction of a built-in App Store where users can find, download and install iMessage Apps and Sticker Packs.
Here at Beautiful Pixels, we've been playing around with several of these over the last few days and in this post, we're going to take a look at all our favorite iMessage Apps for iOS 10.
Don't forget to check out our Favorite iMessage Sticker Packs for iOS 10 as well.
Note: We'll be updating this post with more apps as they roll out on the App Store.
Plane Finder – Flight Tracker
Plane Finder is one of the best flight tracking services out there, with a stellar app for iOS. You can view information about all the planes flying around the globe and even tap on one to view additional data about it. Earlier today, the app was updated to Version 9.4 that introduces a fantastic iMessage app. Right within iMessage, you can now look up a flight via its number and send information about it to anyone you're conversing with, including the scheduled & actual time of departure and arrival. Here's what it looks like: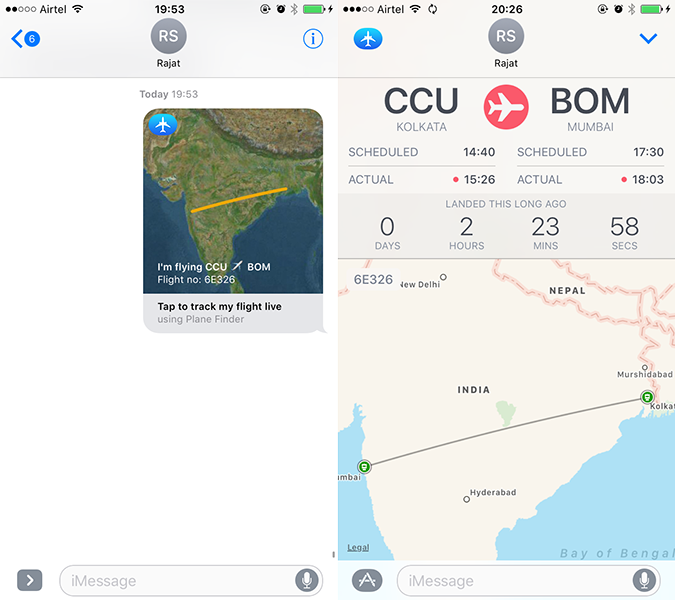 Plane Finder – Flight Tracker is available for $3.99 on the App Store.
Private — 2-Minute Auto-delete Messages
Private is a fantastic iMessage app that allows you to send iMessages to anyone that automatically destruct 2 minutes after being read by the recipient. This feature is one of the things I like about Telegram, so it's nice to see something similar come to iMessage as well.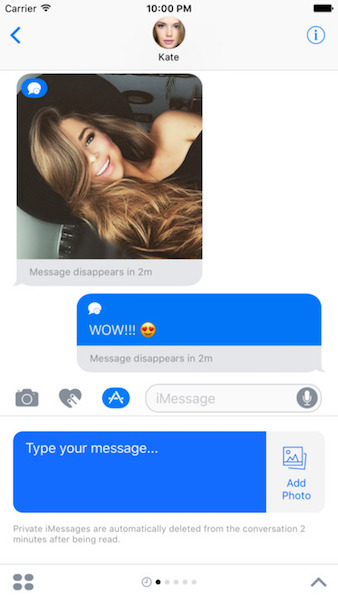 Private is available for $1.99 on the App Store.
Drafts
Drafts is a by far one of — if not the most powerful notes app available for iOS. It has been around for years now & has gone through several major releases, and with every release, the developers Agile Tortoise have added some incredible level of features and polish to the app. Earlier today, Drafts was updated to Version 4.7 that introduces a plethora of iOS 10 goodness to the app. The most notable changes in this release include an iMessage app to insert text from the app into any conversation, a much improved Dictation feature, OneDrive support, rebuilt Today and Share extensions, and performance improvements to the Apple Watch app. The iMessage app makes it super handy to store store frequently used snippets in Drafts and access them with a few simple taps.
Drafts 4.7 is a Free Update to existing users and is now available for a reduced price of just $4.99 on the App Store, with a Tip Jar option to support its continued development.
Cipher — Secret and Digitally Signed Messages
From the makers of 1Blocker comes Cipher — a simple yet useful iMessage app that allows you to digitally sign and encrypt your iMessages. It makes use of the Touch ID on your iPhone to sign or encrypt these messages and is a prime example of of the clever ways iOS devs make use of Apple's platforms.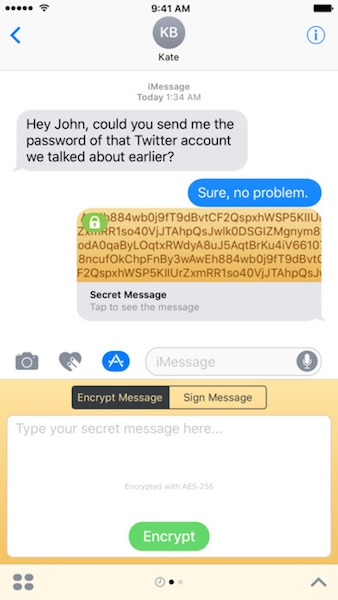 Cipher is available Free on the App Store, but requires an IAP to unlock its full potential.
iTranslate
iTranslate is one of the best translation apps available for iPhone and iPad and today's update (Version 10.3) introduces a really nifty iMessage app. With support for over 90 languages, iTranslate allows you to chat with anyone around the world with ease, and if you have the Pro features enabled, you can also use the dictation features for even faster translations.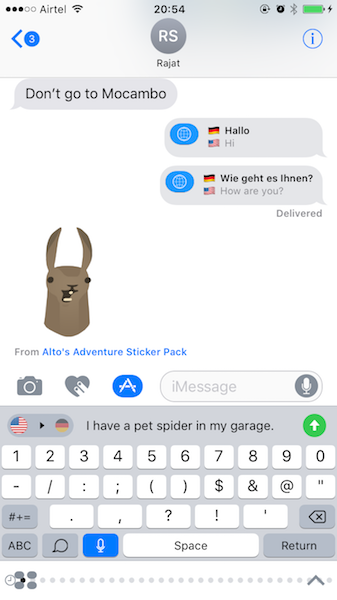 iTranslate is available Free on the App Store with IAPs to unlock Pro features.
Momento
Momento is a lovely way to share GIFs of your memories. This iMessage app cleverly looks into your Photo Library and builds GIFs of similar photos, so you can share them with a single tap. The actual GIF creation happens automatically, and although it's not 100% accurate, it's still a fun way to discover and share the photos you've taken in the form of a GIF.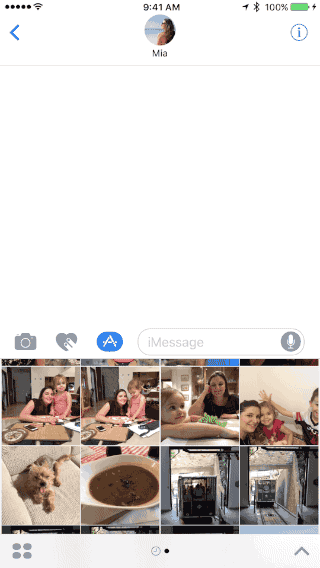 Momento is available for $1.99 on the App Store.
LookUp
We've already written about LookUp in detail yesterday, but it still deserves a mention here. With a fantastic iMessage app bundled with the main app, it's a great way to discover new words and share them with your friends.
LookUp is available for $1.99 on the App Store.
Rock–Paper–Scissors
Fancy a game of Rock-Paper-Scissors? Now you can play it right within iMessage thanks to Rock–Paper–Scissors.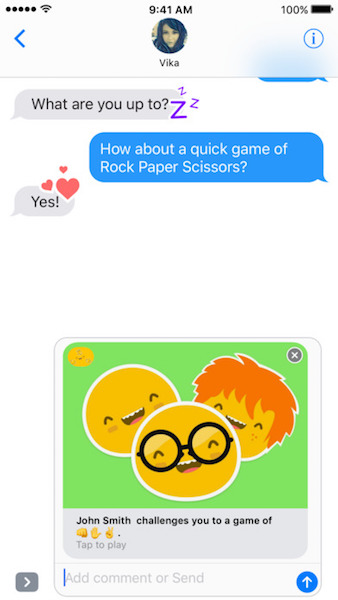 Rock–Paper–Scissors is available for $0.99 on the App Store.
xoxo – Tic Tac Toe for iMessage
There's no doubt that there'll be several Tic Tac Toe games on the App Store, this is the one that caught our eye and for good reason too. xoxo by Laser Focused is a lovely implementation of the age old game and quite fun to play.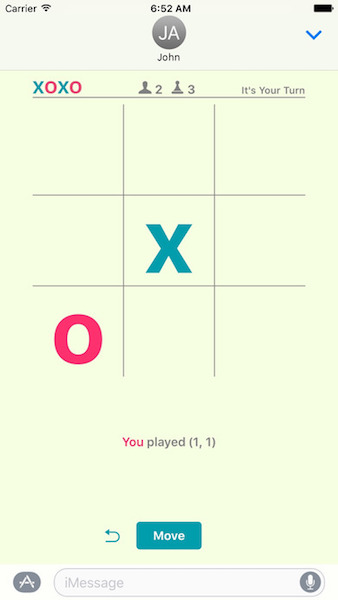 xoxo is available for Free on the App Store, with a $1.99 IAP for xoxo Creator.
Snappy Browser
Snappy Browser is an interesting iMessage app that allows you to quick send a link to someone without leaving iMessage. It's basically a browser within iMessage, and you can browse any URL and share it with anyone, including any text you've selected on a page. We just wish it looked better than it currently does.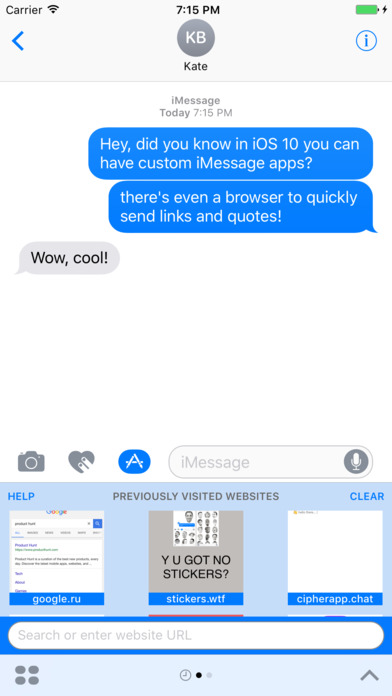 Snappy is available for $1.99 on the App Store.
Doodler — Sticker Drawing
Doodler is a simple, no-frills doodling app for iOS. Although there are several other doodling apps out there like it, Doodler is one of the first ones out there to have an iMessage app. This means that you can quickly doodle something using various colors and send that off to anyone you're having a conversation with on iMessage.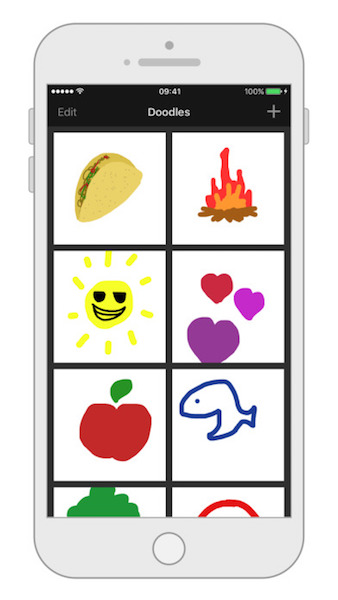 Doodler is available for $0.99 on the App Store.
Swapped
Swapped is a fun little iMessage app that allows you to swap faces with your friends, or with famous people. There's a handy gallery with faces of famous people, or you can send a request to a friend directly. In out testing, Swapped wasn't that accurate with detecting faces, but the ones that it did detect, it did a great job of swapping them.
You can grab it for Free on the App Store.
GIFwrapped
Who doesn't love GIFs, right? GIFwrapped is a fantastic app that lets you save your favorite GIFs in the app, and then use them anywhere. With version 1.4 of the app, you can now find a sweet iMessage app that gives you access to your favorite GIFs, so you can send GIFs via iMessage with a single tap.
GIFwrapped is ad-supported and is available Free on the App Store. You can disable the ads with a $1.99 IAP.
There are a lot more apps that we've been playing with, but Apple has been holding onto their release for some reason. We'll update this post as soon as they're released on the App Store.
---
Preshit Deorukhkar is the former Editor-in-Chief of Beautiful Pixels. He is now a Freelance Consultant, Principal at iXyr Media & SharpShutter Media. You can reach him on Twitter @preshit