if (screen && screen.width < 767) {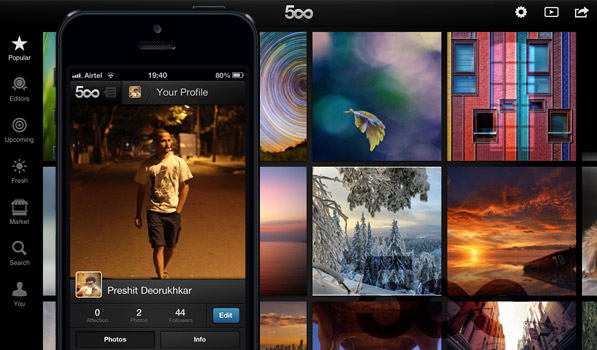 500px — Browse Stunning Photographs on your iOS Device
---
I'm far from calling myself a "photographer", but I do occasionally takes photos that turn out to be quite good. No, not the ones at a family event or with tens of people in the frame, but photos of products, landscapes or even random interesting objects I come across. There was a time when I used to share them on my Flickr profile. However, Yahoo! has pretty much left the product in a stagnated state in the last couple of years and a lot of users — amateurs and professionals have since moved onto other networks. The network that is most talked about in recent days has been 500px. Co-founded by two entrepreneurs from Canada, 500px has since grown into a huge community of passionate and creative people around the globe that share their photographs with others on the community.
500px has had a gorgeous iPad app that lets you browse millions of stunning photographs shared by and with the community. Recently, the app was updated with support for the iPhone 5, making the app a truly gorgeous solution to consume the vast amount of content on 500px. Both the iPhone and iPad UIs are absolutely enthralling. You can browse different categories using the easy navigation available in the app. There's collections of 'Popular' and 'Editor's Picks' as well in the app, so browsing these will easily eat up hours of your time. You can even follow your favorite users on the site and you get a readymade stream of their activity — the photos they like or comment on. This is a lovely way to come across some stunning photos tailored according to your interests. The boast a UI that looks beautiful, but gets out of the way when you want to simply look at and admire the photographs. The app on both the iPad and iPhone is spiffy and works with thumbnails, so you don't have the keep staring at a blank black screen waiting for the photo to load.
In the end, the 500px iOS app offers a fantastic way to consume the insanely great collection of photographs shared by the community. The apps are available Free on the App Store, and signing up for an account is free too, so there's no reason why you shouldn't try the app out.