if (screen && screen.width < 767) {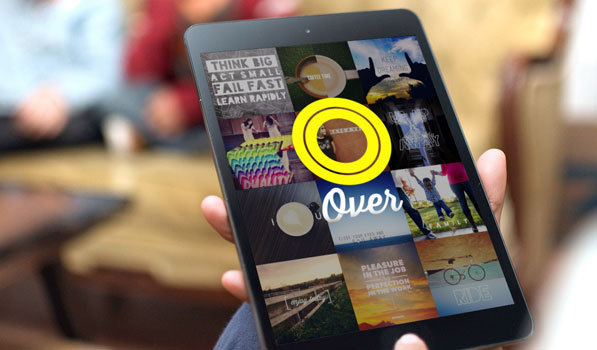 Add Crispy Typography to your Photos with Over
---
We all love sharing our photos to networks like Facebook, Instagram & Twitter these days. The cameras in smartphones these days churn out impeccable photos and one-touch filters in popular mobile photo-editing apps have made sharing interesting photos a lot of fun. Over is one such app that works with your photos and instead of offering a bunch of photo filters to you, it lets you add beautiful fonts to your photos.
Over has been around on the App Store for a while now, but it has made some tremendous improvements over the last few versions. The core idea behind the app is to let you add custom text & fonts to your images and share them to your choice of social network. You can create fun, inspirational images or even random memes using the photos you've taken. Over ships with 28 carefully picked fonts for you to use, most of which give out ridiculously good results. It has a nifty dial on the right that lets you navigate through the different options in the app and the whole UX is pretty amazing. With the latest update, Over has now added the masterclass work of Kyle Steed — one of the most awesome illustrators out there. I absolutely adore Kyle's work, so it's great to see his hand-drawn fonts and icons available in the app.
You can see some remarkable examples of images created with Over on their Instagram account @madewithOver. There are some very creative uses of text, like this one. Over is just $1.99 on the App Store, so let your creative juices flow with Over and show us your best work by tweeting to us @beautifulpixels.