if (screen && screen.width < 767) {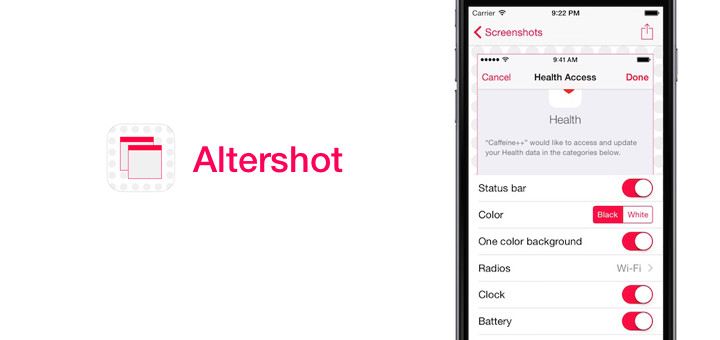 Altershot — Edit the Status Bar in your iOS Screenshots
---
Altershot is a really nifty tool for iPhone and iPad for enabling better looking status bars in your screenshots. We all take screenshots on our iOS devices and many a times, we have poor network coverage (Hello, Airtel) or our battery is almost about to die, so the Red zone easily stands out. Altershot helps you get rid of all these.
Altershot pulls up all the screenshots from your Camera Roll and makes them readily available for editing in the app. You get one tap editing tools in the app, such as:
Status Bar ON/OFF
Color – Black/White
One Color Background ON/OFF
Radios – With a long list of configurable options such as the Empty, Network Bars only, Bars with Wi-Fi, Bars with LTE, Bars with 4G, Bars with 3G, Airplane, Airplane with Wi-Fi, iPad with Wi-Fi and iPod with Wi-Fi.
Clock ON/OFF
Battery ON/OFF
Once you're happy with the look of the screenshot, you can share it using the native share sheet or save it back to the Camera Roll. Unfortunately, Altershot doesn't work with Lockscreen screenshots, as they use a slightly larger font and graphics.
Altershot is available as a Universal app for Free on the App Store and the developer notes that more features are coming to the app.