if (screen && screen.width < 767) {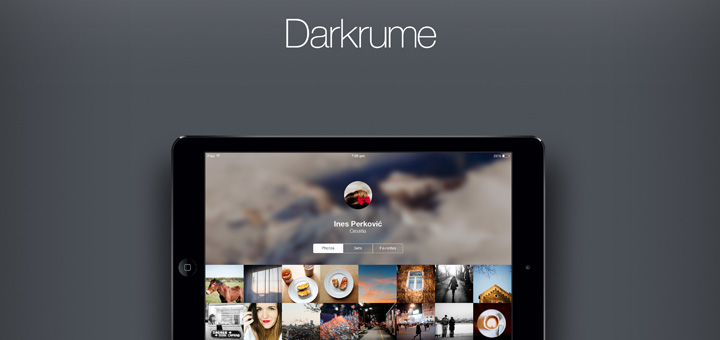 Darkrume — Flickr App for iPad
---
Darkrume is a newly released, absolutely stunning Flickr app for iPad. Meticulously crafted specifically for iPad and heavily inspired by the design principles of iOS 7, Darkrume does a damn good job of offering a fine experience of browsing the abundant photos posted on Flickr.
Flickr has had an official iPhone app that recently got updated with a lovely new UI and features. However, there was nothing on iPad to browse Flickr. Darkrume fills that void for you. It offers a splendid UI that puts heavy focus on the photos. When you launch the app, you are presented with a continues grid of square thubnails that you can quickly skim through. As you scroll, the app's chrome disappears, offering a truly immersive feed of photos that you can dive into. Tapping on each loads up the image in a larger view. You can double tap to favorite a photo. Edge-swipes from the left or right let you scroll through the photos, although this doesn't seem to work in your Contacts feed. Darkrume has an Hamburger-Basement menu, but also supports invoking it with a two-finger swipe.
Darkrume also has the ability to browse any Groups that you are subscribed to. The photos are gorgeously laid out on screen, and the app really shines on a Retina device. You can browse user profiles or reply to a user with a comment quite easily.
Darkrume offers its own domain and URLs, which are essentially just Flic.kr URLs wrapped with their own http://darkru.me domain. The advantage here is that when you click on a link on an iPad, you'll be taken directly to the app and the said photo will be ready for viewing.
Another notable feature of the app is its Search. You can either search using Tags, Text or both simultaneously. This lets you fine tune you searches to find exactly what you are looking for.
Darkrume is optimized for 64-bit and ships with some lovely animations and blur effects that enhance your experience. A few minutes with the app are enough to make you realize that it's been crafted & polished with care. Darkrume is available on the App Store at the sale price of $2.99.
Darkrume has just been updated to version 1.1 that introduced the following features in the app.
Your Recent Activity Feed
Photo Descriptions & Full Captions
Faster switching between photos by swiping left & right
Faster loading of photos and assets
Preliminary support for Dutch
Links to Photos & Groups in comments are now handled by Darkrume
Numerous major & minor UI improvements
Numerous bug fixes