if (screen && screen.width < 767) {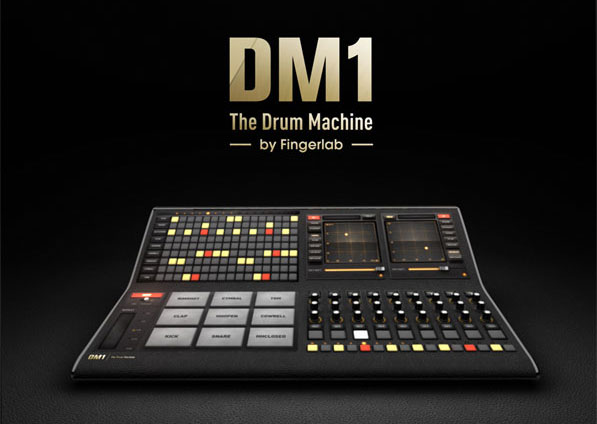 DM1 – Making Sick Beats Never Looked Better
---
Browsing through the App Store today, you'll find that iOS app developers have come up with some brilliant music apps for both the iPad and iPhone. We have seen tons of great iPhone apps for musicians and once Apple announced the iPad, everything changed. Musicians like Jordan Rudess (Dream Theater), who used their iPhones on stage now had access to a device with a larger screen that could run the same brilliant apps. Today we have enough music apps on iOS to satiate any serious musician. Most music apps are extremely useful but not all look spectacular. We did a feature on 76 Synthesizer, designed by Jonas Eriksson, almost 2 years ago and DM1 is another music app with graphics by him.
DM1 is an iPad drum machine app by Fingerlab. They have raised the bar for music apps on the App Store with DM1. There are quite a few drum machine apps for the iPad, including Apple's own drum section in Garageband. Most of them are either too basic or too overwhelming for users. DM1 is designed to be used by both beginners and professionals. It has a very vintage look and feel about it and rarely do you see an app with such high quality sounds in it. The aesthetics of this app are some of the best you will see. Every little detail has been taken care of and creating some beats on this is a lot of fun. When you launch the app you're greeted with a step sequencer that lets you use gestures to turn on elements along with a metronome and a randomizer. The colour scheme is very pleasing and it took me about 10 minutes to fully understand what this app is capable of doing which is really good considering how much it can do. It has 29 different electronic drum kits, 13 classic kits and 16 in-house electronic kits created by Fingerlab. You can select one of these or change the tempo with the LED buttons on the top. If you have ever used a real drum machine, you will love the Pads section. It lets you record anything you want by tapping on the 9 drum pads. This will appeal to beginners as well as it is much simpler than the steps interface. The app also has a mixer that lets you adjust the level, pitch and length of each sound along with panning the sound. Most users will probably not need this but they have gone that extra yard to provide features professionals would want. You can even cut different sounds from different kits and create your own drum patch. The FX section lets you add overdrive, delay, phaser, texturizer, robotizer, filter and a compressor to your sound with a simple XY graphical interface. The final composition section is the song section. This lets you put everything together. You can create up to 25 patterns and use them in any order in a song. Dragging and dropping patterns into the timeline makes things very easy. You can export your song or pattern to any other audio apps, iTunes file sharing or to an email. The app also has Midi IN along with the Camera Connection Kit.
My main issue with the app right now is the lack of Retina Display support for the new iPad. I hope Fingerlab does something about this as soon as possible because this will definitely be a deal breaker for a few people. The mixer screen looks amazing, but can be a little annoying when you have to adjust many knobs on the screen due to the size of each knob. While there are many apps that do more than this one, DM1 strikes that perfect balance between aesthetics, usability and functionality. It is available on the App Store for $4.99. Check out the promo video below.