if (screen && screen.width < 767) {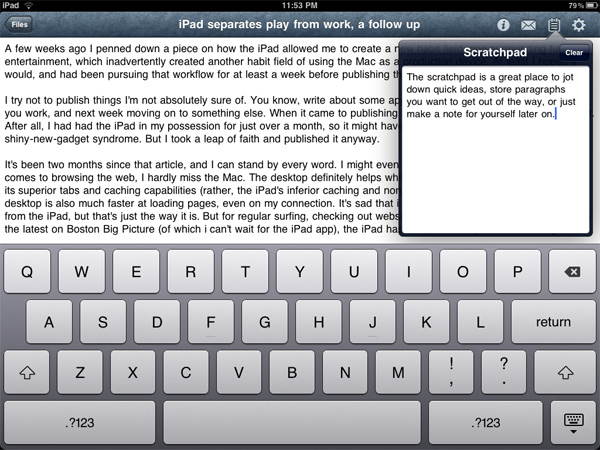 Elements — Dropbox Synced Writing
---
Justin Williams from Second Gear has coded a rather pretty and feature rich writing application for the iPad and iPhone.
The App Store description:
Elements is a beautiful, versatile text editor for iOS. Elements allows you to view, edit and share plain text documents on your iPad, iPhone or iPod touch. All of your data is stored on your personal Dropbox account so that its accessible from any device you have.
It really is as simple as entering your Dropbox credentials. Nice features like Word Count, and a universal 'scratchpad' (seen below) for editing text. I'm yet to decide on how much of a crutch a thumbnail based navigation is in comparison to the commonly used list; it's probably worth it for the cute way they animate while switching orientation. The app will show up in the App Store in a few days at $4.99, and we'll have our review on SA by then.