if (screen && screen.width < 767) {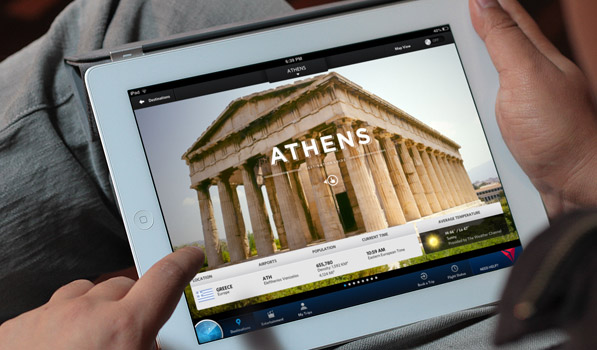 Fly Delta for iPad — Not Your Typical In-Flight Magazine
---
Delta Airlines is one of the largest airlines in the world, whichever way you choose to measure it. They already have feature-rich apps for the iPhone and Android that serve basic needs like booking flights, checking in, even paying for your checked baggage and changing your seats. Their iPad app goes beyond these routine tasks and offers a lot more. Every time you launch the app, you will see a different photo from locations that are covered in the destination guide, serving as the beautiful background for the login menu. No worries if you're not a regular Delta flyer and don't have an account, you can continue using the app as a guest. Unlike TRVL, which we featured last week, Fly Delta does not seem to be an offline-friendly app. The moment you disconnect the Internet, the app gets stuck on a page that asks you to hop back online to continue. Hey, but the good news is that all Delta flights that are WiFi enabled will give you free access to their Internet for using this app when you're on a flight.
First-timers get an option to view the video tutorial that nicely explains the features of Fly Delta. Every other launch after that presents you with a 3D globe render with marker pins showing you destinations that Delta Airlines caters to. Other than Delta's special packages that keep showing up, you can sort these destinations by different categories like "Romantic Getaways", "Top Beaches", "On a Budget" etc. Choose a destination to bring up the Destination Guide that starts off by giving basic information about the place like the population, temperature, local time etc. Start flipping to the next pages, and you will have an introduction to the place with photos of touristy spots. Following which, it informs nifty tidbits like what to pack and an understanding of the local transportation. The last pages of this guide serve 'Must See places', 'Dining' options, 'Shopping' and 'Nightlife' spots. On the last page, you can download digital versions of the Sky Magazine, which you'd typically find in the seat-pockets in front of you on a flight.
Fly Delta even offers movie, book and music recommendations relative to the city you've chosen to check out. Their customers will also appreciate their in-flight entertainment guide telling them what movies to expect on which flight. You can also check out the contents of the Destination Guide by flipping to 'Map View' that pins all the places in the guide on a map. There's social connectivity in the form of Facebook and Twitter, where the app helps connect with your friends who may have been to the place you're checking out. The grand finale feature of Fly Delta is the Glass Bottom jet. Say you're flying Delta and above the clouds, switching this feature on shows a virtual representation of your aircraft, tracing your exact flight path with geographies that you're jetting over below. Also, at any point of time you want to book a trip or check a flight status, the menus for those are always there at the bottom.
All in all, Fly Delta has a lovely UI that is pleasing to the eyes, works swiftly and is quite easy to navigate through. It is not just a typical in-flight magazine app — it offers an stellar experience that you can enjoy even if you're not a Delta flyer.