if (screen && screen.width < 767) {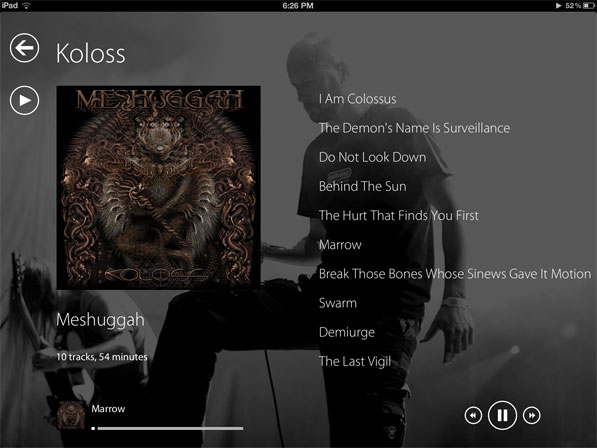 Go Metro on your Music with Track 8 for iPad
---
Microsoft's Metro UI has been met with mainly praise barring a few people who just can't stand it. I absolutely love the Metro UI in with its emphasis on typography. While Metro may seem a tad pointless in apps like Email, it really shines in graphic-heavy interfaces and hence Track 8 by Ender Labs is a wonderful Metro music player for the iPad. While there are other Metro UI apps in the App Store like Maha for Twitter and Muzik, Track 8 is easily the best one of the lot and my favourite music player on the iPad. The references to Windows 8(Metro theme) present in the name and the icon which is an eighth note are a nice touch.
When you launch the app you are greeted with album cover tiles for your history and most played tracks. This is basically a skin for your default music player since it doesn't let you add music and only accesses what the default music app has (including iTunes match songs). You can search by artist, album or playlist and clicking on an alphabet reveals a Metro tile view for every alphabet with the ones you have results for a lighter shade than others. It is worth noting that when you select an artist or an album, the app pulls a background image for the same artist from Last.fm and displays it in the background. This can be turned off but I really like it. All basic options like repeat and shuffle are present and the look of the app when it is playing a certain album is drool-worthy. The app looks spectacular on the new iPad. All transitions are very smooth and fast and the app also has appearance customizations in the settings page. The colour theme options are exactly the same as a Windows Phone device including a light background option which has always looked horrible according to me. You can disable artist backgrounds here and it tells you how much storage it is using for the same backgrounds. The audio playback buttons are present in every view at the bottom of the screen. Since this is only a skin, you can't create any playlists which is sort of a let down.
There are a few things I would like to see in future updates to the app like Last.fm scrobbling, Portrait mode, Pre fetching of backgrounds for artists and finally an iPhone app. This app is proof that Metro UI looks great on a tablet. If you think Metro UI looks and feels good, Track 8 by Ender Labs is a must buy. It is available on the App Store for $1.99.