if (screen && screen.width < 767) {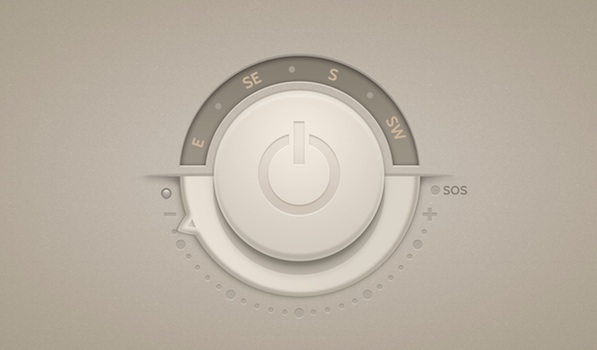 HLP Flashlight — A Gorgeous Flashlight App with a Digital Compass
---
One of our awesome readers recently sent us a link to this flashlight app on the iOS App Store. Now, one might say that the App Store is already overflowing with simple, one-feature flashlight apps already. But if apps like this are making their way to the App Store, I'm not complaining.
Named HLP Flashlight, the app sports an absolute beauty of a UI. It has a lovely minimalistic look to it and managed to very quickly impress me when I first launched it. The textures, shadows and gradients are superbly implemented and HLP Flashlight shines in every aspect. But it's not only its gorgeous UI that caught my eye. The app has a big rounded dial in the center of the app through which you control every feature offered by the app. Tapping the button in the center turns the flashlight on/off. The upper half of the dial is actually a digital compass. As you move your phone around, the dial shows you exactly where the top of the phone is pointing towards. The bottom half of the dial can be moved from the left to the right and sets the throbbing rate for the Flash — the more you move it to the right, the faster the flash blinks. The right-most setting is an SOS setting that flashes the SOS code via the LED. There's a small indicator light on the left which indicates the status of the LED.
HLP Flashlight is a Universal app, so it works both on iPhone and iPad. Since the iPad lacks a flash at the back, the app just uses a blank white screen to simulate bright light. The app is a great little flashlight utility app and makes for an easy download, considering it's Free on the App Store.
Here's a quick video explaining the features of the app.
[sublimevideo settings="youtube-id:yAgZ3a-NmxI" width="720″ height="405″]