if (screen && screen.width < 767) {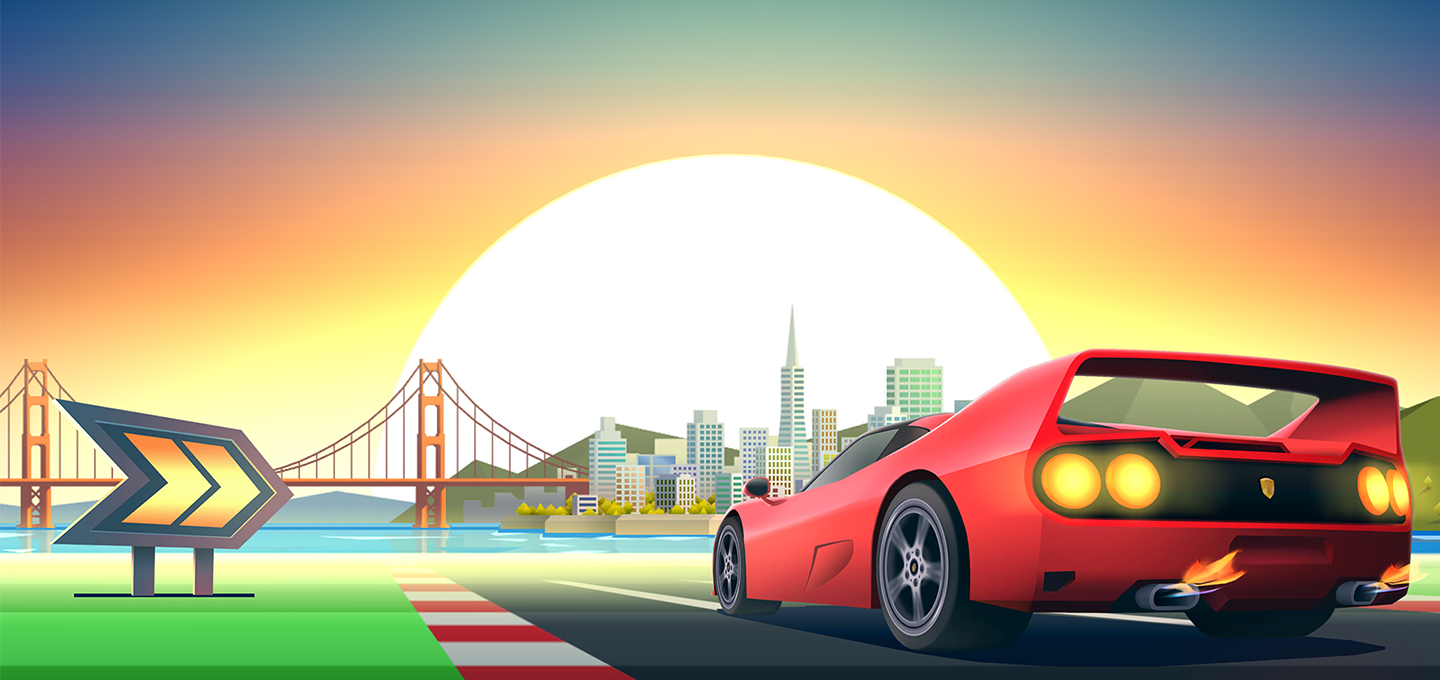 Horizon Chase — A Modern Take on an Old School Racing Game
---
I've been getting back into racing games ever since I played Driveclub on PS4 and have been on the lookout for a good racing game for every platform I own. Most people think of the Asphalt series when they think of racing games for iOS, and while those games do look nice, they are too IAP-ridden for my liking. Horizon Chase by Aquiris Game Studio is one of the best racing games I've ever experienced. It has stunning visuals, is a lot of fun to play, and is the best racing game available on iOS today.
Horizon Chase does not hide its inspiration. It wears it proudly. If you've played the SEGA classic, Out Run, you know what I mean. Horizon Chase is a modern take on Out Run for me. The developers have created an aesthetic that is both deserving of a feature on Beautiful Pixels, and functional for a game. Everything from the backgrounds to the actual models of cars and items on the race track are gorgeous. Animations for car exhaust and collisions would fit right at home in Monument Valley. The only real downside to Horizon Chase is the design of some of the interface elements. The buttons in the main menu feel rather out of place when compared to the consistently beautiful visual style throughout the rest of the app. You know how we all gasped when we saw the toggle for Apple Music trial being iOS 6 style? That's what I feel when I use the menu to get to a race in Horizon Chase.
Controls are very important in racing games and the controls in Horizon Chase just feel great. You get the sense of speed and still have perfect control over the vehicle during super sharp turns. It uses on screen controls, but they don't suck. The developers went all out and got their composer, Barry Leitch (Top Gear games) to get the music to sound old school with modern themes. The visuals, music, controls, atmosphere created in each unique track really make for a memorable experience.
I see so many influences of games from the past throughout Horizon Chase intertwined wonderfully to create a game that will be remembered for a long time. Horizon Chase should be something you're playing right now if you own an iOS device. I do hope the developers fix the out of place interface buttons. Horizon Chase is available on the App Store as a universal game for just $2.99.