if (screen && screen.width < 767) {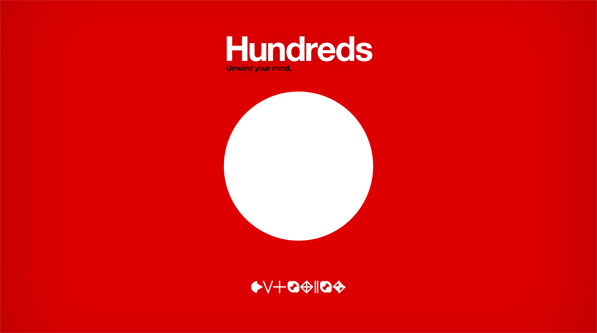 Hundreds of Minutes Will Be Spent Each Day Playing This Addictive Game
---
Semi Secret Software who brought us Canabalt have released a new game for iOS called Hundreds. It is an insanely addictive puzzle game with stunning visuals and amazing sounds. I have been awaiting its release ever since I saw Polygon do a hands on back in October.
Hundreds has a very minimalist visual style and red theme throughout. It looks absolutely gorgeous on the iPad with Retina display. Another thing you will notice with great indie developers is the effort put into the in game sounds and music. Hundreds doesn't have an over the top soundtrack but the sounds are just plain awesome. The main menu just has a white circle with concentric rings around it and buttons for the settings screen and round select. The round select screen has hundred small dots on the right that become bigger as you complete levels. The left has the round number and elements included in the level. You can see your statistics on the bottom left along with the main menu button. Hundreds has some great typography as well.
The gameplay in Hundreds is simple. You tap and hold grey circles to increase their size and value till the overall sum of all grey circles in the screen is one hundred. Multitouch is supported and is needed in many cases as the levels progress. You have to avoid your circle touching any other object as it is increasing in value. There is no tutorial in the game and new elements like slicers that reduce circle value to zero are introduced in simpler levels as you move ahead. The gameplay is addictive and quite frustrating in some levels. It reminds me a lot of Super Hexagon by Terry Cavanagh in those aspects. Get ready to see the line "IF THEY TOUCH WHEN RED THEN YOU ARE DEAD" often as you start playing the game.
Hundreds is everything you want in a mobile game. It is addictive and fun. It also has great replay value as there are many ways to complete a level. Even though the game is universal, it isn't that much fun on a smaller screen device. I wouldn't play it on anything smaller than an iPad mini. It is best enjoyed with a pair of headphones on and an iPad with Retina display. Hundreds is available on the App Store at $2.99 till Jan 10th after which it will be $4.99. Be sure to check out the website for the game as well. It is exactly how game websites should be done.