if (screen && screen.width < 767) {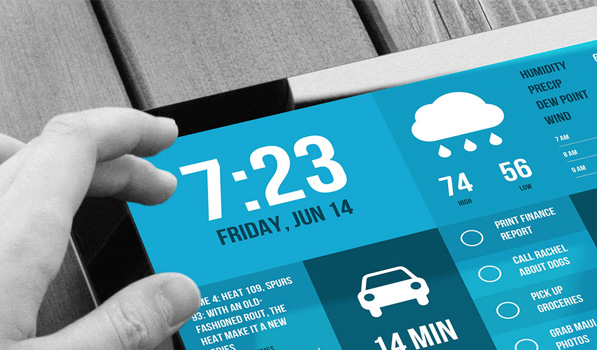 Morning for iPad Wants You to Start Your Day Right
---
Something we all do after waking up in the morning is check our phones or tablets. It could be either to check our emails or @mentions on Twitter, what our calendar looks like, the weather for the day or just to catch up on our RSS feeds. Morning for iPad is a lovely app that aims to give you all of that on one beautiful screen.
Morning is divided into panels (tiles) that you can customize, but they can't be moved around. Tapping on a panel brings up its options. From here, you can customize the details of the selected panel or change its content. Swiping in from the left edge allows you to change the background color of the app. The UI of Morning takes cues from Windows 8's tiled start screen. It's flat and comes with five bright colored backgrounds. It doesn't follow the iOS 7 design language yet, but still manages to look good on the iPad.
All the usual suspects to get you through your morning routine are here. You can check out the time on a big beautiful clock or go over your day's agenda from the 'Events' panel. Instead of global settings, each panel has it's own. You can choose to hide or show different calendars from the panel's settings menu. Morning will also import reminders from Apple's own Reminders app and any change you make in Morning will be reflected back in the Reminders app. Morning doesn't allow you to add reminders though, so you'll have to go the Reminders app for that.
The Weather panel is as simple as it gets, with high and low temperature, along with a big icon telling you the forecast for the day. The Stocks panel is also customizable and you can add stocks you want to follow quite easily. You can also add RSS feeds from your favourite blogs. Just enter the domain name and if it has a discoverable RSS feed, Morning will look for it directly. Running a bit late? Morning will also tell you the commute time for your work.
Morning isn't as feature rich as you'd like it to be. But it's slick, looks good and works as advertised. My iPad is almost always running while I work on my PC. Morning can be the perfect app to just have open on your desk, where you can quickly glance to see the time or your upcoming appointments. Twitter and Email integration would have been nice. But for now, Morning seems to be a step in the right direction. There are some known bugs in the current version (1.0.4) of Morning if you are running iOS 7. The developer has pushed an update on the App store and it is currently in review, so expect it to be taken care of shortly. Morning is available on the App Store for $2.99.