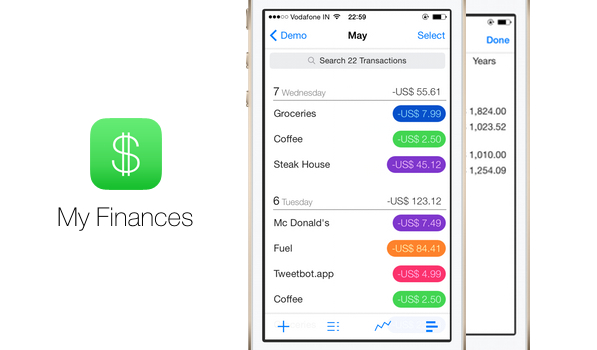 There's no shortage of finance management apps on the App Store and every app has its own way of dealing with your data. Unfortunately, the way each of us deals with our finances is different; so it might take a while to get that perfect fit. My Finances is a Universal finance management app by Matthias Hochgatterer that aims to solve your expense & income management woes. My Finances is highly robust and has a graceful user interface. The app is clean and includes some subtle touches that make it stand out.
At first, you might find Finances a little difficult to get used to because of the number of nested tables used in the interface. But after your first few entries, you'll get used to the UI and start enjoying the lively animations and other little details of the app. The app greets you with some slick initial screens that are reminiscent of the screens you get when you first get your new iOS 7 device. In these set of screens, you can enable a demo account and also enable iCloud sync between your iOS devices. I highly recommend enabling the Demo account as it'll help you grow accustomed to the app. By default, the app launches in the Accounts view where you can see all your accounts and a summary of the total balance in each. One thing to mention here is that the app automatically found out my home currency without asking for access to my current location, something I quite liked. It got this data from my current region through iOS Settings > General > International.
Tapping on an account takes you to a summary view where you can view your average monthly balance. Tapping on the data in any month will take you to a more detailed view with a daily summary of your income and expenses with your most recent transactions on top. Here you can search for a particular transaction and edit a transaction by tapping on it. This view shows you your transactions with colour coded categories and adds that fancy visual appeal to the app. To add a new income or expense you can tap on the plus button in the toolbar at the bottom and proceed by adding the amount, category, date, notes, account name and transaction type. The transaction type is another interesting feature of My Finances that lets you add whether a certain transaction will be recurring or transferred. This will be extremely useful for adding transactions such as house rent or fixed monthly salary. The app uses a nice little animation to show where a new item has been added in the month view.
Next to the add new transaction button in the tool bar are buttons for viewing statistics through text, a line chart or a bar chart. The two chart views are only accessible through an in app purchase. The bar chart view uses a delightful animation to display the amount spent on each category in a particular month. Here, you can choose how granular you want the information to be – by week, by month, or by year (available through the in app purchase). You can also filter by category in this view. There's a settings view in the app through which you can change your currency, add a passcode, add new categories, export/import data, change iCloud sync settings and add a back up to Dropbox. iCloud sync and Dropbox back up worked quite well during my testing of the app. Another extremely useful feature of My Finances is Notifications. The app reminds you to track your expenses and planned transactions in case you forget to add them on time. It also sends you a push notification at the end of every week/month with a neat summary of your income and expenses.
I noticed a few UI bugs in the iPhone's initial screens and the iPad app, but these can be fixed in a minor update. I wish the app had a few theme options and a better tutorial though. With the recent v1.3 update, My Finances has included the ability to add multiple accounts along with the ability to show bar charts grouped by categories and filtered bar charts for certain categories as mentioned earlier. I found some of the app's features to be extremely useful. For example, the granular search and the detailed statistics for years, months and weeks. For a data freak, this app is a no-brainer. The app is Free on the App Store and is definitely worth trying out. If you feel My Finances satisfies your financial management needs, you can make the $3.99 in-app purchase and unlock unlimited transactions, Statistics and Charts, Data Export and Dropbox backup.