if (screen && screen.width < 767) {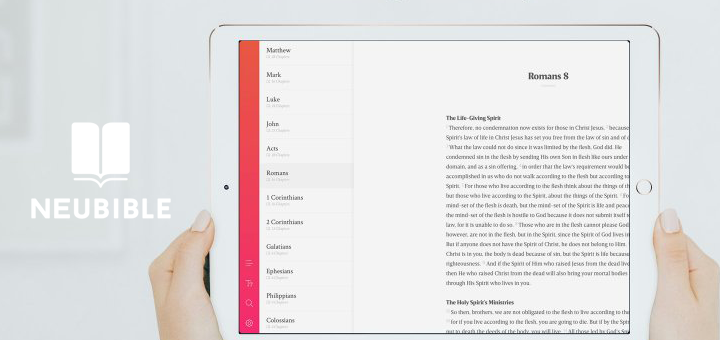 NeuBible Comes to the iPad
---
NeuBible is a stunning and absolutely gorgeous bible app for iPhone that we'd featured here on Beautiful Pixels back in May 2015. Back then, Mikhail only had high praises to sing about the app.
NeuBible is not only the best looking Bible app out there, but it is the best looking reading app, and I think I enjoy its looks way more than Unread, which is something I never thought I'd say.

NeuBible uses stunning typography from Hoefler & Co, Linotype, Commercial Type & DSType. Margins, line spacing, sizes are all hand tuned with the end result making you want to lick your phone screen (seriously). From navigation that can be done with a single thumb even on larger phone screens to the actual text, NeuBible has raised the bar for reading apps to an astronomical height.
A year later, the Quiet Pupil duo have released Version 1.2 of the app that brings the stellar reading experience from the iPhone to the iPad. NeuBible is now a Universal app and everything you've come to love about the iPhone app has been brought to the larger screens. The interface is slick, the typography is stunning and the pixels… well, you'll probably want to eat the screen off.
This version also introduces support for 3D Touch actions from the app icon on the home screen and removes the "Continue Reading" notification when you would launch the app after an extended period of time.
NeuBible is a one of the most well-crafted iOS apps we've come across and still wish that Quiet Pupil need to release an eBook or RSS reader app in this style. It is available for $4.99 on the App Store and is a Free update to existing users.
Also Read: Big screens, even bigger lessons & learning to make tough calls—introducing NeuBible for iPad