if (screen && screen.width < 767) {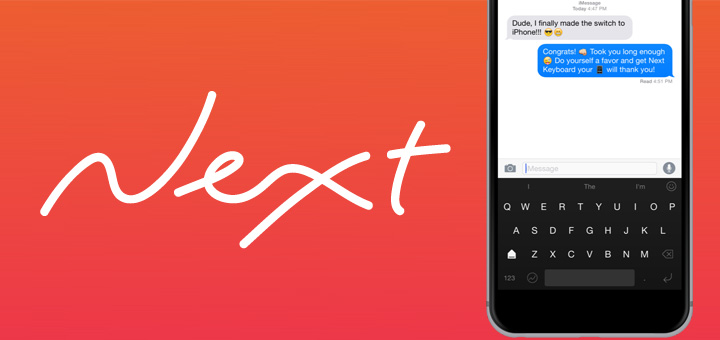 Next Keyboard — A Phenomenally Better iOS Keyboard
---
When iOS 8 was announced at WWDC '14, one of its notable features was the ability to install third-party keyboards and use them in various apps in place of the stock iOS keyboard. Since its release, we've seen a lot of third-party keyboards being launched on the App Store, including the likes of SwiftKey, TextExpander and Themeboard. However, Next Keyboard is one third-party keyboard that I'm most excited about.
Next Keyboard aims to be "the Perfect Keyboard for iPhone" and boasts some amazing features that easily set it apart from the rest. The developers of Next, who've previously brought apps like Wake Alarm to the App Store, have been running a Kickstarter campaign for it for the last month or so and the project has already reached almost 6x its original goal of $10,000. The developers had hooked me up with a very early, pre-beta version of the keyboard for me to try on my iPhone 6 and Next definitely shows a lot of promise.
Next features some innovative and essential features that make it a phenomenal keyboard option for iOS. For example, Next includes a feature called "Quick Cursor Swipe" that lets you move your cursor by swiping on the spacebar. This makes editing any typos a breeze. Next also manages to implement word predictions much better than other third-party keyboards I've tried. Other features include the ability to swipe to type, a better Shift key implementation and an integrated, custom Emoji keyboard so you don't have to change keyboards to type a single Emoji. Next also features the option to customize the look via themes, all of which are beautiful to look at. There are many more features that Next will ship with and the list is available on their Kickstarter campaign. While the early build of the keyboard that I tried was obviously riddled with bugs, as there's plenty of development that's still left, but it still showed a lot of promise.
There are still 3 days left to go before the campaign ends, so you can (and should) back the campaign here. I hope Apple manages to fix the iOS 8 bugs related to keyboards till the time Next Keyboard is ready for prime time.