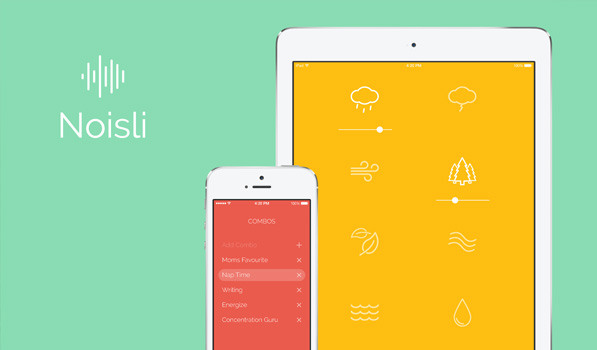 Noisli is a beautiful and minimal background noise generator app that was available only as web app till today. We've previously writen about it back in October 2013 and it also featured in our year-end Feature — The Highlight: Website Designs. Noisli lets you mix-n-match several audio sources like rain, wind, fire, etc. to create your very own background stream to work with or relax to. Today, Noisli has released an official iOS app on the App Store that brings all the features of the website into a native package that takes advantage of iOS 7.
Just like the website, Noisli's iOS app has been designed beautifully, but stays minimal in its approeach. There are big glyphs representing the different audio sources that Noisli supports in the app. Tapping on each glyphs enables/disables that audio source. Once you toggle it, a tiny slider appears below each glyph letting you set the volume level for that source. Being a native app, Noisli supports background audio on iOS as well as offline playback. There's a handy Timer function that you can set, say, when you want to go to sleep, along with the ability to fade out the audio at the end. Noisli supports mix-n-match of different audio sources, so you can even save your custom combos and jump right to them when you want.
I did notice a few bugs in the app, but for a 1.0 release, Noisli looks and works (mostly) great. Noisli is available for $0.99 on the App Store as a Universal app.