if (screen && screen.width < 767) {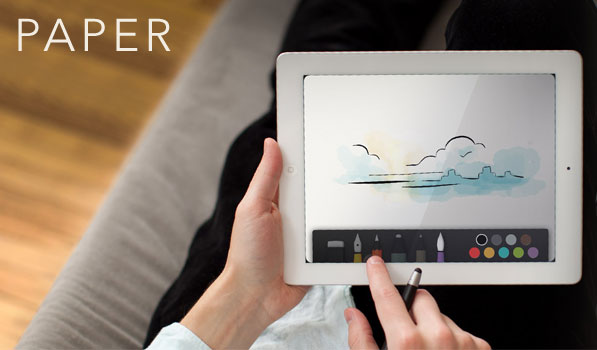 Paper — Bring out the Creative Genius in You
---
Here's Paper — a beautiful app for iPad. And it's one of those apps that we ask you to stop reading this article right now and go grab it from the App Store right away. Paper is a marvelously good iPad app, designed to bring out the creative genius in you.
Paper is essentially an iPad app that brings a set of tools and some notebooks to play with. How you put them to use is left to you. Paper makes it extremely easy to capture your ideas onto the paper in various forms. The engine used in the app to trace your gestures into ink works incredibly well and the flow of it at every stroke makes using it a lot of fun. When you download the app, which is Free on the App Store, you are given the Draw tool to play with. Additional tools — Sketch, Outline, Write & Color can be downloaded using the In-App Purchase mechanism and cost $1.99 each.
Paper has no buttons, no preferences or settings. Your entire iPad screen is a raw canvas for you to draw on. Take notes, sketch out your ideas, make graphs or just scribble for fun. Here's my attempt at some drawing.
You can create multiple Journals, label them what you like and even add your own cover photo. You tap to open a journal and pinch out to close it. The papers in the journal are brilliantly laid out and swiping from one to the next feels super intuitive.
You can even share the canvas on sites like Tumblr, Facebook, Twitter or even via Email. Paper is available FREE on the App Store, and we cannot press this enough — if you have an iPad, you've got to try Paper out.