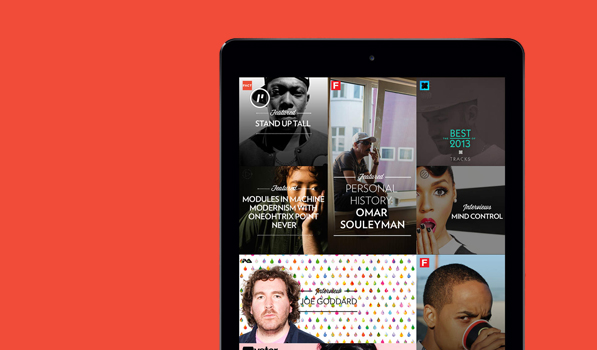 Pause Magazine — Discover The Best Music Of 2013
---
When it comes to music or entertainment magazines, I usually just flick through them waiting in line at the doctor's office or at the barber shop. In other words, I've never bought or picked up a music magazine with an express purpose of reading it. Those odd visits through the glossy papers usually told me what was hip and alerted my sharpened filter what to stay away from. And when you've got Twitter at your disposal, who needs a carefully curated music magazine? Or so I thought, until I came across Pause.
Pause is a beautifully designed magazine for iPad and iPhone. But that does not set it apart, Newsstand is filled with awesome digital magazines. The integration of high quality content, with multimedia like integrated videos, previews of songs and an always there music player with music picked specifically to go with the content on screen make it special.
Pause presents you with a homescreen with Verge-like layout of tiles with colorful backgrounds and a title of the article. Pause curates content from the best music blogs out there, like Fader, Pitchfork, etc. Scroll down to see more such articles, tap the one you like to open it up. Tap the Pause logo on the top right corner to go back to the homescreen. The always there music player sits comfortably at the bottom left corner, ready to put you in the right mood.
When it comes to content, Pause is as varied as the industry itself. You'll find interviews, documentaries, the Best.. lists including the best music of the year according to Pause editors, the Top.. lists stating what the public liked, and articles on the best podcasts, animation etc of the year. If you thought that 2013 was the year of electronic music, the notion will only get stronger with reading Pause. Pause strikes an equal balance between the mainstream and the indie content (leaning slightly towards indie).
I'm all for discovering new music, but there has always been a disconnect between reading about new music and listening to it, usually caused by a multi step process of googling and clicking through several links. Being a geek, reading about music, finding out little details, Easter eggs about my favorite songs is always a fun way to spend an afternoon, but all of this happens after discovering a new song. With Pause, it happens simultaneously. If you own an iOS device and dedicate even a small part of your life towards discovering new music or reading up on it, you should download Pause. Pause magazine is from the guys over at Shuffler.fm. They do a great job of continuously curating the best music from different music blogs. So, after you are done with the magazine, that's something to look forward to. Pause is available for Free on the App Store.
Update: A few hours after we published this article, Pause was updated to support for the iPhone as well. The article has been updated to reflect this.