if (screen && screen.width < 767) {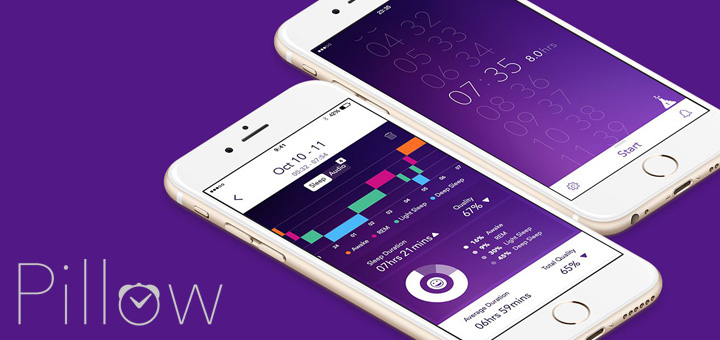 Pillow is a Power Packed Sleep Cycle Tracker and Alarm Clock App for iOS
---
I wasn't really a big believer of the sleep cycle or sleep tracking apps available for iOS or Android. Sure, they did what they advertised, but I still wasn't seeing the point. As long as I was getting sufficient sleep somehow, I was happy. I didn't care what my sleep patterns were and I never felt the need to know when I went to sleep or woke up. All this changed when I came across Pillow 2.0. Pillow is a smart sleep cycle tracker and alarm clock app for iPhone and iPad. The app not only allows you to track your sleep and view the data in a wonderful UI, but also helps you analyze and improve your sleep through tons of detailed information and tips.
Pillow has been around for a while now, but the Pillow 2.0 update is what really makes this app shine. It is a Universal app, so you can put it to work both on your iPhone or iPad. It sports a stunning design, something that's lacking in most other apps that I have seen. Pillow also boasts some advanced features (some of which are enabled via a $4.99 IAP) that set the the app in its own league.
It works much like any other sleep cycle app. Right before you sleep, you have to enable the tracking and place the phone next to you on the bed. Pillow displays the time on the screen and recommends that you keep the phone screen side down on the bed, such that the screen automatically shuts off but the app keeps running. In case you wake up in the middle of your sleep, you can quickly peek at the time and go back to sleep. Pillow picks the optimum time to ring the alarm based on which phase of sleep you're in, so that you don't wake up groggy and disoriented. Once you are done with your sleep, Pillow shows you colorful charts with data such as your sleep phases, the duration you slept for and the sleep quality.
Health App Integration
Pillow integrates directly with Apple's Health app in iOS 8, so your sleep cycle data is also available in there and other apps can use it. While in Pillow, you can turn the phone to landscape to view additional data such as a comparison between all the previous sessions you've recorded, and comparison between your Sleep Quality vs. health metrics such as Steps, Heart Rate, Weight, etc. that are pulled from the Health app. This gives you great insights into how well you sleep after heavy or light sessions of activity every day.
Different Tracking Modes
Pillow offers different kinds of sleep tracking modes. They are —
Full Mode — Sleep Cycles, Sound Recordings & Alarm
Sleep Cycles + Alarm
Sleep Cycles Only
Sleep Cycles + Sound Recordings
Alarm Only (Smart alarm based on your sleep phase)
Power Nap (For sleep duration up to 20 minutes)
Recovery Nap (For sleep duration up to 45 minutes)
Full Cycle Nap (For sleep duration up to 120 minutes)
You can use these mode depending on the data you're looking to collect through the app.
Sound Recordings
One of my favorite features in Pillow is its ability to record sounds along with your sleep data. This is great for knowing how often (or loudly) you snore or if/when you talk in your sleep. Pillow will record sounds during your sleep and split them into multiple files so you can hear and export each recording as you want, or delete them if you don't need them.
Snooze Lab
The Snooze Lab is Pillow's special area that offers personalized experiments, recommendations and tips that help you improve your sleep. It waits till you have tracked sufficient sleep sessions to study and analyze your data and then keeps offering recommendations. These are backed by latest scientific research & facts. There are also achievements to keep you motivated.
Pillow uses iCloud sync, so your data is available across all your devices when you need it. You can even add sleep notes after every session, in case you need to quickly jot down anything that you dreamt off. Pillow ships with multiple and a variety of alarm sounds, or you can simply pick one from your iTunes library. If sleep doesn't come easy to you, you can opt for the Sleep aid option that plays soothing sounds that help you fall asleep. These include sounds like Rainfall, Fireplace, Crickets, Feng Shui, Thunderstorm and even White Noise.
Pillow 2.0 is available as a Universal app for Free on the App Store. There is a $4.99 IAP that unlocks the premium features.