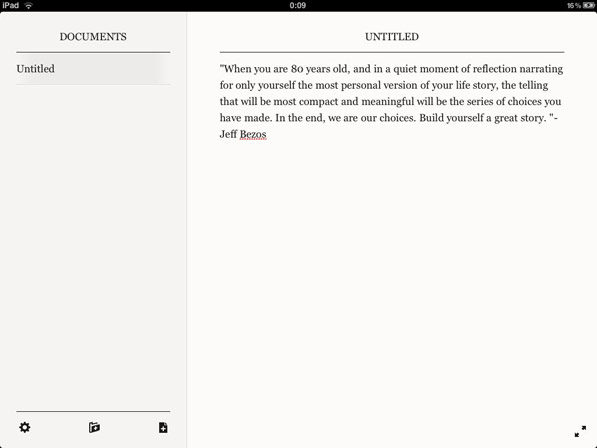 PlainText — Simple, Beautiful, Writing.
---
Jesse Grosjean, developer of Writeroom, has been working hard on a dropbox syncing writing app for iOS, and it's finally here. PlainText is an ultra minimal beautiful writing app, that uses crowd favourite Dropbox for syncing its .txt files across.
The writing interface is just a plain white screen, and you can even hide the sidebar by going fullscreen. One of the awesome things about PlainText's fullscreen mode, is that it keeps a nice thick margin on both sides, so you're not looking at loooong lines like in most other writing apps. This also helps maintain perspective, so your text doesn't change shape when you switch from portrait to landscape to fullscreen landscape. Thoughful UI design is something I always appreciate.
Best of all, PlainText is free, works on the iPad and iPhone, and for all intents and purposes, this will be my "textedit" on iOS.