if (screen && screen.width < 767) {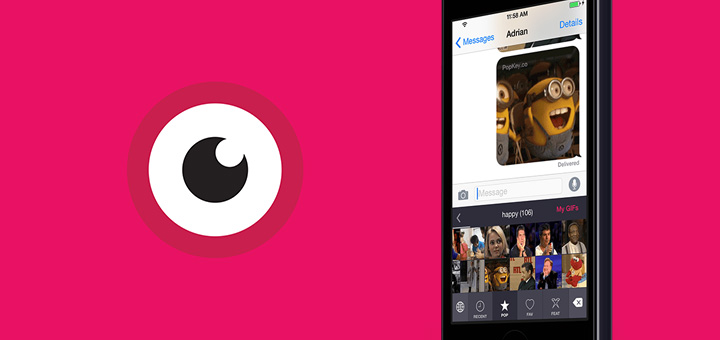 PopKey — Sending GIFs Redefined
---
A couple of days ago, I got the following message (Yes, all CAPS):
"RAJAT. STOP SENDING GIFS AND START SENDING WORDS LIKE A HUMAN BEING."
If there is a better example of a hate crime, I don't know what it is. Fortunately, with iOS 8 and Third Party Keyboards, Apple has paved the way for the instrument of my revenge. Say hello to PopKey.
PopKey does one thing, and it does it great – it allows you to browse through a huge catalogue of GIFs and send them in iMessage or any other app that accepts GIFs in text-entry fields. Unlike apps like the excellent GIFwrapped, however, PopKey is a system keyboard, meaning that you don't have to open an app, find the GIF to send, copy it to your clipboard, switch back to your messaging app and paste. PopKey is just a long-press of the keyboard's globe icon away. All you have to do is browse through its curated list of GIFs, tap the one you like, and it appears in your clipboard, ready for you to paste into the text entry field.
You have four tabs at your disposal – Recents, Popular, Favorited and Featured. Recents, as your might have guessed, lists your most recently used GIFs. Popular and Featured are two separate curated lists of categories. You can double tap any GIF to add it to your Favourites, so it is always at your beck and call. PopKey also allows you to upload GIFs that you may have in your Camera Roll. Nifty!
I do have a couple of complaints, though. For one thing, the curated lists are nowhere near comprehensive enough for a serial GIFsman like myself. Even worse, however, is the fact that Uploading your own GIFs is only possible after you unlock the ability by referring PopKey to a friend using the companion app. I know it's a very minor problem, and probably not worth the mention, but I'd honestly rather have to make in-app purchases than spam my friends with referral links.
On the whole, for a free app, PopKey is remarkably full featured keyboard and it makes life very easy for those of us who find emojis just too bland and inexpressive. It's an iPhone only app (for now, presumably), but the keyboard works and looks like any keyboard on the iPad. PopKey is available Free on the App Store.
Now if you'll excuse me, I have a friend in desperate need of GIF-based love.