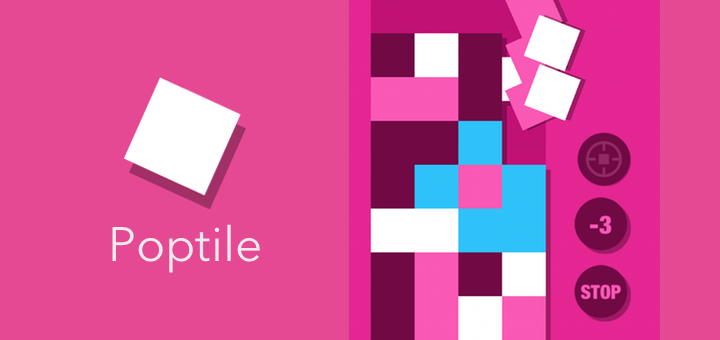 Poptile is an extremely fun tile breaking game for iPhone and iPad. The game has been developed by indie studio 1Button, the fine folks behind Task. I'm a big fan of the colours, style and animations used in Poptile. The game is easy at first but gets tricky as your score increases. This makes the game entertaining and challenging at the same time.
The aim of the game is to get the highest possible score by breaking groups of tiles of the same colour. There are extra points for combos. The game is reminiscent of Tetris and the tile breaking animations are a lot like Letterpress' animations. Poptile can have you hooked for hours. Simply tap on a tile or a group of tiles of the same colour and watch as they break away. You can combo into more points by strategising and making multiple groups of tiles pop onto each other. Every time you pop a tile or a group of tiles, a new line is added. The aim is to pop as many tiles as possible in order to avoid the screen from filling up. The game ends once the screen fills up. The game gets more complicated and the number of coloured tiles increases from 4 to 5 as your score increases. I really love the colour combinations and backgrounds used here in almost every theme.
The game displays your score on the right and comes with 3 buttons on the side that let you extend your game a little. Each of these buttons have a special characteristic. One stops a new line from being added for one turn, one removes the bottom 3 lines and one lets you removes all tiles of a certain colour. This mechanic increases the fun of the game and makes for an overall exciting experience. Poptile also has Game Center support and I noticed a custom UI made specifically for the Game Center screen. It's great to see that the developers have put in extra effort to ensure that this screen goes well with the rest of the interface. There's also a colour blind mode in Poptile that assigns a specific shape to each colour.
The game is available for free on the App Store and has ads that show up at the end of each game. You can remove the ads by making an in-app purchase of $0.99. Poptile also comes with some really beautiful themes which can be unlocked via an in-app purchase of $0.99. The game is truly delightful and is definitely worth checking out.