if (screen && screen.width < 767) {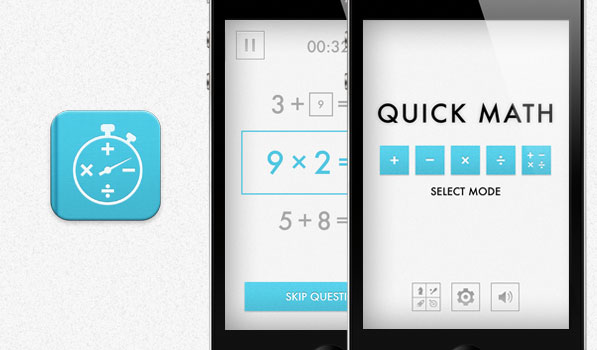 Quick Math — An Exceptional Algebra App
---
Creating an educational app isn't easy. Creating an educational app that isn't boring is a difficult task. Sakura Quick Math (henceforth Quick Math) by Shiny Things Software aims to change the way kids learn algebra.
Quick Math is a universal app and it aims to improve your Algebra. It has 5 main modes including addition, subtraction, multiplication and division. The 5th mode is a mixed mode that has questions from all the above modes. Each mode has its own difficulty setting. After selecting a mode and difficulty there is a countdown timer before you are presented with the main questions. Everything in the app has a very pleasing look to it and the sounds used are very zen-like. I never imagined something that taught you math could be so soothing. The quiz questions are answered by drawing the answer right on to the screen. The app claims to use advanced handwriting recognition but it is far from advanced. you can swipe down with two fingers to clear an answer and if you are correct, the quiz proceeds. There is a timer on top monitoring your total time and in the advanced difficulty setting, your times are reported to Game Center. Questions can be skipped as well but there is a penalty time added to your overall time for skipping any questions. After you complete a quiz, there's a really nice graph that shows you your progress that will help you improve. There's also a nice animation of a person running on top of the graph bar. This same person falls down if you have skipped a question while your penalty time is added which is a nice touch. The settings screen lets you change the handwriting style which is a nice touch. The animations are really slick everywhere inside the app and barring one main problem, this app has the potential to be insanely useful and helpful.
I was pretty blown away by the app after using it and while it is intended only for kids, anyone can use it to brush up on some quick algebra to kill time. The handwriting recognition failed on me a few times. Barring that it is a brilliant app. I really hope they improve the handwriting recognition because it is annoying having to redraw things when you are doing something time based. Quick Math is a simple and useful tool for basic algebra that will benefit a lot of people. It is available on the App Store for $0.99 and is definitely worth checking out.