if (screen && screen.width < 767) {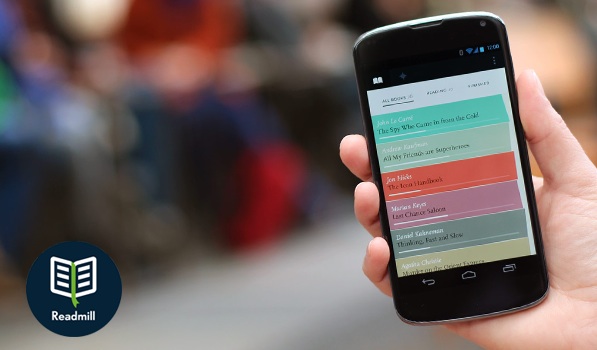 Readmill is my new Favorite eBook Reading App
---
If you are an avid BP reader, you probably have already adapted the paperless world. You scan your receipts and back them up on Evernote and you read novels on your Kindle and PDFs on the iPad. One of the biggest problems faced while upgrading to the paperless world — at least when it comes to reading ebooks — is that the system is horribly fragmented. You might find a classic, no-copyright book, free from Project Gutenberg which is still paid on leading ebook marketplaces like Kindle or Nook. Some ebooks are available on one platform while some on others. Keeping track of all your purchases and syncing them with different devices is always a pain. Readmill wants to take some of that pain away from you.
The Platform
Readmill is an ebook reading platform. It's the mix of Kindle and Goodreads. The pitch is simple. You can upload your own ebooks to Readmill directly from your browser (DRM and DRM free Adobe ebooks, epubs, PDF books supported), download free ebooks from Readmill's own massive library or from one of their partners. No matter what the source is, it will be instantly available on all your devices running the Readmill app. You can also bring in any book by selecting 'Open in Readmill' option from iOS sharing menu when using a supported app. I tried it multiple times and it works flawlessly. Not just that, it also syncs your last read position across multiple devices, à la Kindle. So when it's time to pop out for a bit, you can continue reading on your phone.
Readmill also integrates several social reading features that enhance your reading experience. You can highlight parts of the book which are conveniently backed up on Readmill servers. You can then comment on them or share them to a number of Social Networking sites. Highlights are available over the web, making it easy for non Readmill users to chime in as well. If you are not the social sharing kind, you can always change the sharing option to Private and keep all your reading to yourself.
Readmill is not a store in itself but it has partnered with many online ebook stores that let you import your purchases into Readmill with one click. This is another place where Readmill's multiple sources, one platform system works really well. I personally liked 'Send to Readmill' feature on Readlists site. It works much better than 'Send to Kindle' ever did. Catching up on The Verge's weekend reads just got a lot easier.
The iOS app
Readmill for iOS is a universal app (I tested the iPad version). The design language and typography is the same on iOS, Android and Web. Readmill's design manages to be simple yet exciting. The light Sepia background and the serif font is reminiscent of an actual book. Green accents on the buttons and highlights, the ample navy blue in navigation controls and the multiple color backdrops for the books in your library that makes the UI pop are all fantastically done. The app in itself is incredibly snappy. You can 'Explore' free books from the app itself. As I mentioned above, Readmill has quite a large collection of out of copyright books including classics from Fitzgerald, Oscar Wilde, Agatha Christie, Kurt Vonnegut, Shakespeare etc. spreading across various genres. You can read other Readmill user's highlights and reviews within the app itself.
The Android app
One of the most difficult parts of building a cross platform app is maintaining a unified design language. Readmill succeeds here with flying colors. Perhaps it was because Readmill for Android was rewritten from scratch a couple of months ago and it's just as beautiful as its iOS counterpart. The same design and typography are carried over to this end of the shore. As it was rewritten recently, the Android app has some catching up to do. While the app is in active development and features are being added with every update, as of right now some key social sharing features are missing from the app. Even basic functionality like highlights is missing and hitting the define key takes you to a Google search as opposed to firing up the inbuilt dictionary as it does in the iOS app. Although the app is missing some top level features, it has you covered when it comes to reading. Your last read position is still synchronized and so is your library.
Readmill is a beautiful, simple, no frills ebook reading platform. It takes the complexity out of ebook management and lets you focus on the actual reading experience. Although I'd love for the app to have Dropbox support that would automatically sync any book I drop into the designated folder, ready for me to read across my devices making the experience truly automatic. A browser reading support, similar to Kindle Cloud Reader could also come in handy especially when reading giant PDFs. Hopefully these features will be added in future versions.
If you've ever been frustrated trying to transfer a book you downloaded from Kobo onto your ebook reader or tablet only to be prompted to download Adobe Digital Editions AND register for an Adobe ID to transfer the ebook, Readmill is for you. Readmill is available for Free on iOS and Android.