if (screen && screen.width < 767) {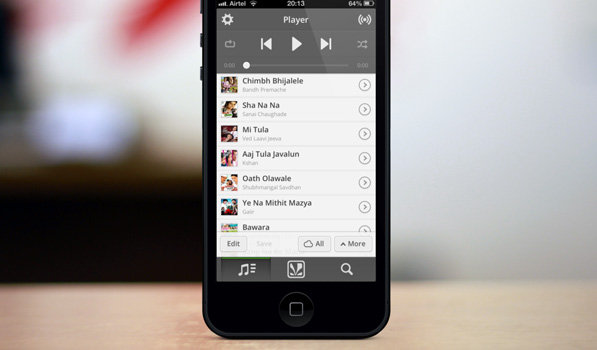 Saavn Introduces Pro Subscriptions, Brings Offline Saving to its iPhone App
---
Online music streaming services like Spotify and Rdio have become immensely popular these days, but they still remain available only in the select few countries where they have the rights. I have always wished for these services to be available in India as and while there is a way to subscribe to them from here, it's not really ideal. For Indian users or for those looking for Bollywood or other regional language tracks, there have been services like Saavn, Gaana, Dhingana, etc. that come with an extensive library of tracks and their own unique offerings. All services are free to use.
I have personally been a fan & user of Saavn from the time I first came across it. Saavn's iPhone app has had a beautifully polished UI since the very beginning and the fact that it even offered an iPhone app in the first place was interesting enough for me to try it. And I was impressed. But the only reason that I hadn't written about Saavn here on Beautiful Pixels was because the iPhone app had ugly, non-Retina ads in it. In spite of the app being very beautiful, I could not stand seeing the ugly ads in it. So I was delighted when the company finally announced a Pro subscription.
With Saavn Pro, which costs $3.99/month via IAP, you no longer see ads in the app and can save your favorite tracks for offline listening. The app lets you save up up 3GB of music, but this feature is exclusively available on an iOS device for now. With this launch, Saavn has also revamped the design of the universal iOS app, now going for a flatter UI design instead. It still sports a pretty coat of pixels and offers a wonderful listening experience. There's an integrated Radio option that gives you a non-stop automatic playlist. Saavn has an extensive library of tracks in 9 languages, so you'll probably find that song you're looking for.
Saavn has always been a free, ad-supported service available to anyone, but the Pro subscription is definitely a great option. Unfortunately, it is IAP only, so the lack of a web subscription option like Rdio & Spotify is a bummer for us iTunes Gift Card users. Most importantly, the maximum track quality that Saavn currently offers is 128kbps, though they've said that 320kbps streaming is coming in an update. You can download the app Free from the App Store and subscribe to a free 30-day trial of Saavn Pro if you're interested.
[Masthead photo via PlaceIt]